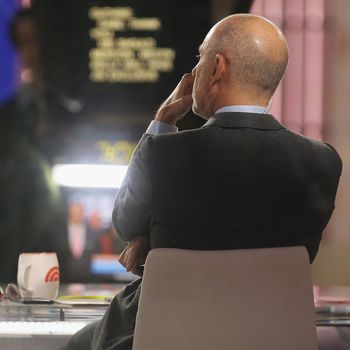 Photo: Al Pereira/WireImage
Most weeks, New York Magazine writer-at-large Frank Rich speaks with contributor Alex Carp about the biggest stories in politics and culture. Today: Donald Trump and the Matt Lauer scandal, James O'Keefe's shoddy brand of journalism, and the prospect of a federal government shutdown next month.
In the wake of Matt Lauer's sudden firing from NBC after a colleague's complaint of "inappropriate sexual behavior," President Trump took to Twitter to accuse the network of "fake news" and lobbed nasty (or already disproven) allegations against morning MSNBC host Joe Scarborough and NBC News chairman Andy Lack. What could he hope to gain with that kind of response?
More than a dozen women have accused Trump of sexual harassment or assault with, as yet, no legal consequences — even though he was caught admitting guilt (gleefully) to Billy Bush on the Access Hollywood tape. As our mad president's delusional thinking has it, accusing others of his own crimes is always the best defense; it's the same impulse that has led him to repeatedly claim that it was Hillary Clinton who colluded with Russia in the 2016 election. That said, we should not let Trump's tweets distract us — either from his own history as a sexual predator or NBC News' own dubious history in dealing with alleged sexual predators, including both Trump and Lauer. NBC and NBC News should not be allowed to play the victim here just because Trump smeared Scarborough and Lack. This network and its news division have a lot to answer for.
As the Lauer story broke yesterday, some (including talking heads on MSNBC) applauded the network for being proactive and firing Lauer on its own volition rather than waiting to respond until journalists elsewhere reported his transgressions (as Fox News waited with Bill O'Reilly, and CBS, PBS, and Bloomberg did with Charlie Rose). That praise is unwarranted. When NBC News fired Lauer, it knew that both Variety and the New York Times were preparing to publish investigative accounts about his serial abuse of women. Indeed, the imminent unmasking of Lauer's offenses was widely known among journalists; I first heard that Lauer stories were in the offing more than three weeks ago. So all the shock and tearful emotional consternation that made for such great drama on the Today show yesterday (as well as at Morning Joe on MSNBC) involved a certain amount of playacting. There was no way the Today "family" could have been surprised by the revelations of Lauer's sexual abuses; the only surprise was that NBC had so suddenly fired him.
Prior to this, it's impossible to forget, NBC News had dropped the ball on two major stories of sexual assault. It had passed on airing the Access Hollywood video of Trump, even though NBC owned the show, ceding that scoop to the Washington Post. And it had retreated from airing the reports of its own correspondent, Ronan Farrow, on Harvey Weinstein, ceding that investigation to The New Yorker. NBC News has never credibly explained either of these punts.
I suspect we are soon to learn much more about who at NBC knew about Lauer's behavior and enabled it or chose to look the other way — just as we will surely learn more about what those managing House of Cards knew about Kevin Spacey's sexual predation when the show was in production in Baltimore. We will also learn more about those who either enabled Weinstein at Miramax or (like the disgraced lawyer David Boies) sicced attack dogs on his victims. If NBC wants to start making amends, it could finally make public any Apprentice archival video that sheds further light on its star's behavior. As the Associated Press reported last year, more than 20 former crew members, editors, and contestants affirmed that Trump repeatedly demeaned women on the show. Bill Pruitt, a former Apprentice producer, said there are "far worse" tapes than the Access Hollywood video that surfaced. NBC must stop sitting on any additional evidence of potentially criminal Trump behavior.
NBC News might also bring back Lauer's former co-star Billy Bush for on-camera testimony. Ann Curry could conduct the interview.
The failed attempt to plant a fake story in the Washington Post by James O'Keefe of Project Veritas seems like the biggest of his long list of backfires, but previous botches don't seem to have hurt his esteem in the eyes of his conservative donors. Will the conservative money move on?
Let's take a moment to acknowledge the moral atrocity of what O'Keefe did: He created a fake sexual-assault crime by Roy Moore in a failed attempt to discredit the real Moore predation that the Post uncovered. What could be more depraved than that?
But even though this stunt blew up, possibly blowing up the punk O'Keefe with it, this incident is only a tiny cog in a much larger right-wing effort, led by Trump, to discredit the news media and to destroy the whole idea of fact-based news as we know it. As the Times has reported, Trump is now revving up to peddle a fiction that the incriminating Access Hollywood video is a hoax — and perhaps to revive his birther calumnies against Obama. Last week he went on yet another tirade attacking CNN, and particularly the brave war-zone journalists of CNN International, for perpetrating "fake news." Yesterday, he posted on Twitter bogus videos earlier tweeted by the fringe ultra-right group Britain First purporting to depict Muslims engaging in vicious violence. (The videos are about as true-to-life as a Monty Python sketch if you watch them.) Not for nothing had the Trump Foundation (surely "Foundation" should be in quotes) given at least $20,000 — its rare "charitable" contribution — to O'Keefe's Project Veritas.
Whatever the fate of Project Veritas, Breitbart and its like aren't going anywhere. Trump and right-wing money will continue to support the blitzkrieg to undermine actual news and install fake news in its place. Count me among the skeptics who do not believe that the Koch Brothers invested in the Meredith Corporation's purchase of the Time Inc. magazine empire to make money. You don't invest in print to make money. You invest to make Betsy DeVos Person of the Year.
An attempt at bipartisan budget negotiations this week regressed into Trump airing complaints to television cameras while sitting between two empty chairs. Is the country headed for a government shutdown?
Chuck Schumer and Nancy Pelosi were right to pull out of a supposedly bipartisan White House summit after Trump (again on Twitter) accused them of deluging America with floods of illegal immigrants and condoning crime. How could they have done otherwise?
Meanwhile, I'm all for the Democrats having the spine to shut the government down. Dick Armey, the Texas congressman in Newt Gingrich's leadership who argued against Newt's shutdown gambit in the Clinton years, had it right when he said that Republicans would always "get blamed for shutdowns." It is "counterintuitive to the average American" that Democrats want to shut down the government, he said, because "they're the advocates of the government." Meanwhile "it is perfectly logical to them that Republicans would shut it down because we're seen as antithetical to government." Go for it!
Another wild card that could shut the government down, at least figuratively, has nothing to do with the Democrats' debatable spine. If Roy Moore, now ahead in three recent Alabama polls, wins on December 12, the Senate will be thrown into turmoil as it weighs the question of whether to admit him to its ranks. Or will it? Now that even John McCain has surrendered to an outrageous tax bill that violates his own stated principles about fiscal probity and congressional process, perhaps he and his colleagues, for all their bluster, will surrender to Trump's inevitable demand that they let a sexual predator join the Senate too.