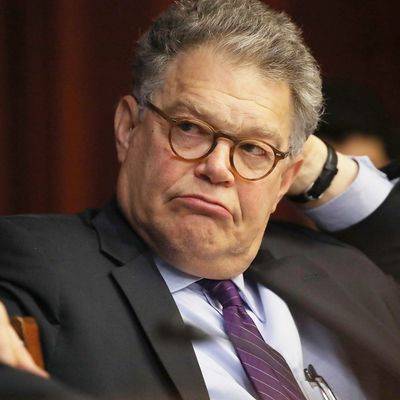 Franken.
Photo: Joe Raedle/Getty Images
Senator Al Franken told multiple Minnesota news outlets on Sunday that he was remorseful after several allegations of sexual misconduct, in his first round of interviews since the initial accusation. But Franken did not show any signs of quitting his office, saying that he looked forward to going back to work on Monday.
"I'm embarrassed and ashamed. I've let a lot of people down and I'm hoping I can make it up to them and gradually regain their trust," Franken told the Minneapolis Star-Tribune.
Asked if the public could expect more stories to surface, Franken responded, "If you had asked me two weeks ago, 'Would any woman say I had treated her with disrespect?' I would have said no. So this has just caught me by surprise … I certainly hope not."
Although four women have recounted Franken's inappropriate behavior toward them, no Democratic lawmakers have demanded Franken's resignation. Many have instead deflected questions by citing an upcoming Senate Ethics Committee investigation — which Franken invited in his first statement apologizing for his actions.
"The Ethics Committee is looking into all of this and I will cooperate fully with it," Franken told Minnesota Public Radio.
Franken was first accused of misconduct on November 16 by broadcaster Leeann Tweeden, who alleged that he forcibly kissed her during rehearsals for a USO comedy sketch in 2007, the year before Franken was first elected to the Senate. Tweeden also produced a photo of Franken grabbing, or pretending to grab, her breasts while she was sleeping.
A second woman, Lindsay Menz, told CNN days later that Franken had grabbed her buttocks at the Minnesota State Fair in 2010. And two more women anonymously told HuffPost that Franken had also grabbed their buttocks in separate incidents in 2007 and 2008. One also said that Franken had invited her to join him in a bathroom, an allegation Franken denied on Sunday.
He did not deny the other allegations, but said, "I don't remember these photographs, I don't. This is not something I would intentionally do."
Franken — and the Democrats who support him — may be hoping that his offenses will be overshadowed by more dire revelations about other lawmakers. On Sunday, 88-year-old Democratic congressman John Conyers stepped down from the House Judiciary Committee after a BuzzFeed report alleged that he had paid a former staffer to stay silent about his sexual advances. The Alabama Senate election features a candidate who has been accused of preying on 14-year-olds. And there is likely much more to come, as the post–Harvey Weinstein fallout ripples through the political world.
Still, Democrats who might have successfully dismissed Franken's misconduct as a one-off after the first allegation are treading on potentially dangerous ground. Some already think their minimizing of his behavior looks less like a reasonable interpretation of the facts and more like a double standard. Such criticism will only grow louder if more women come forward. And that's not to mention that Minnesota voters have quickly soured on the senator, at least for now. (He is next up for reelection in 2020.)
Franken, as he acknowledged on Sunday, has a long road ahead of him.
"I know I'm not going to regain their trust immediately," he said. "There's no magic words I can say here to make that happen."