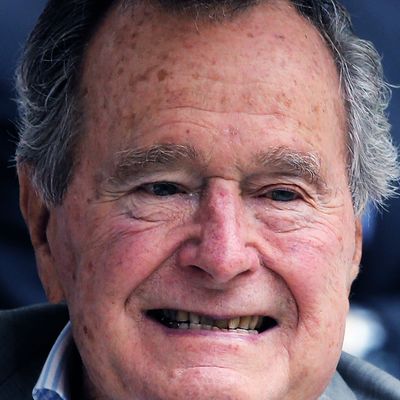 Not on the Trump train.
Photo: Scott Halleran/Getty Images
The Last Republicans, a new book about the relationship between Presidents George H.W. Bush and George W. Bush, offers the clearest look yet at the disdain the two share for President Trump.
"I don't like him," the elder Bush told author Mark K. Updegrove in May 2016. "I don't know much about him, but I know he's a blowhard. And I'm not too excited about him being a leader." According to the book, George H.W. Bush voted for Hillary Clinton last year (as it was reported he intended to do), while George W. Bush left the presidential slot on the ballot blank.
George W. Bush told Updegrove that he was surprised Trump won the nomination and presidency. He criticized Trump for his lack of humility, which he said was a guiding force among his own family. And when he heard Trump boasting about being his own adviser, the younger Bush thought that Trump "doesn't know what it means to be president," Updegrove told CNN.
In light of Trump's anti-trade, anti-immigration agenda that runs counter to decades of GOP dogma, George W. Bush also worried that "I will be the last Republican president," a quote that gave the book its title.
It's been obvious that the Bush family and President Trump aren't exactly bosom buddies for some time. Jeb Bush was mercilessly ridiculed by Trump during the GOP primary last year. After witnessing the current president's infamous "American carnage" inauguration speech, George W. Bush was reported to have uttered the memorable (and accurate) assessment: "That was some weird shit."
And several weeks ago, George W. Bush gave a speech that didn't mention Trump by name, but served as a harsh rebuke of his xenophobic worldview and "casual cruelty."
After reports about the book were published, the Trump administration fired back on Saturday, calling the Iraq War one of "the great foreign policy mistakes in American history."
This post has been updated to include the Trump administration response.