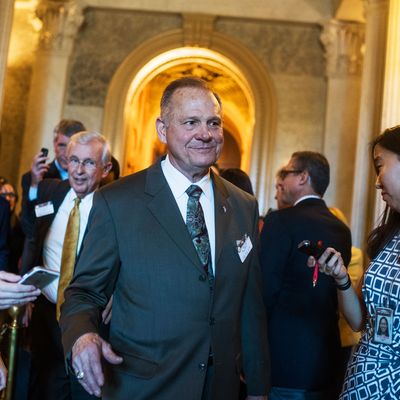 Roy Moore in the Capitol last month.
Photo: Tom Williams/CQ-Roll Call,Inc.
Vice-President Mike Pence and more than a dozen Republican senators on Thursday called for Alabama Senate candidate Roy Moore to withdraw from next month's special election if recent allegations of sexual misconduct with minors are true.
Moore, a far-right demagogue whose rise to prominence was based in part on his homophobia, is accused of pursuing relationships with underage women while he was in his 30s. Four women went on the record for the Washington Post, three of them telling the paper of advances Moore made when they were between 16 and 18. A fourth accused him of initiating sexual contact with her when she was 14. Moore, who would have been 32 at the time and is 70 now, denied the allegations.
"If these allegations are true, he must step aside," Senate Majority Leader Mitch McConnell said in a statement issued Thursday afternoon.
"If that's true, then he wouldn't belong in the Senate," Alabama senator Richard Shelby told reporters.
Arizona senator Jeff Flake echoed the sentiment: "If there is any shred of truth to the allegations against Roy Moore, he should step aside immediately."
"I'm horrified and if it's true he should step down immediately," Alaska senator Lisa Murkowski said. She also told reporters that she has spoken with Alabama's current senator, Luther Strange, who lost the GOP primary to Moore, about mounting a write-in campaign next month.
A handful of other senators made similar statements, most with the caveat that Moore should step aside if the allegations are true. Two GOP senators were willing to go further.
Ohio senator Rob Portman made a similar statement as those above but added that Moore's accusers "are on the record, so I assume" their allegations are true.
On Thursday evening, Vice-President Mike Pence expressed similar sentiments in a statement issued by his press secretary. President Trump, who is in Asia, has yet to comment.
Then there was Arizona senator John McCain, who is apparently willing to take Moore's accusers at their word and unequivocally called on him to step down.
This post was updated to include Vice-President Pence's statement.