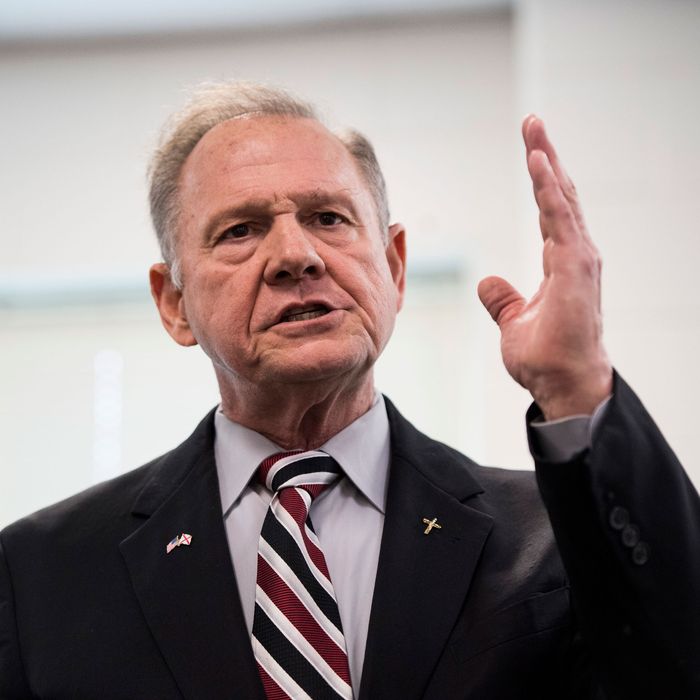 Roy Moore.
Photo: Bill Clark/CQ-Roll Call
Leigh Corfman says that Republican Senate candidate Roy Moore sexually abused her when she was 14 years old. She told the following story to the Washington Post, on six separate occasions, without ever changing a relevant detail:
In 1979, she was sitting with her mother on a wooden bench outside a courtroom in Etowah County, Alabama. A 32-year-old assistant district attorney approached them and introduced himself. Leigh's mother was about to attend a child-custody hearing. The kindly lawyer offered to watch Leigh, so she wouldn't have to listen to her newly divorced parents fighting in court.
That lawyer was Moore. In this telling, he saw Leigh as a child who was too vulnerable to be left alone for the length of a custody hearing — and too emotionally fragile to sit through one. And yet, within days, he drove her to his house in the woods, gave her alcohol, and forced her to touch his penis.
Corfman went on to become a self-destructive teenager, her adolescence shadowed by drinking and drug abuse. By age 16, she had attempted suicide.
Roy Moore went on to become chief justice of the Alabama Supreme Court — and a standard-bearer for American social conservatism, widely admired for his unwavering commitment to traditional sexual morality.
Two of Corfman's childhood friends told the Post that they remembered her mentioning a relationship with an older man during the relevant time period. Divorce records confirm that her mother attended a hearing at the Etowah County courthouse in February 1979. Three other women — who (by their account) do not know Corfman or each other — told the Post that Moore courted them when they were teenagers, and he was in his 30s. Their accounts were buttressed by friends and family who spoke with the paper.
After all this was reported Thursday, Senate Republicans issued a flurry of concerned statements — almost all of which declared Moore unfit for office "if these allegations are true."
How, precisely, these lawmakers intended to determine the validity of the Corfman's story was unclear. After all, the statute of limitations in Alabama ensures that the allegations will never be assessed in a court of law. And even if that weren't the case, the election is in one month.
Perhaps Republicans wanted to give their candidate a chance to address the allegations, before making a presumption as to his guilt or innocence. If Moore offered a compelling counter-narrative — one that wouldn't rely on assuming that all 30 people who spoke with the Post are lying through their teeth — then there might cause for withholding judgment.
But Moore did no such thing. In fact, he didn't even explicitly deny the allegations, instead taking to Twitter to condemn the liberal media as being in league with Satan:
Meanwhile, many of Moore's allies in Alabama suggested that the truth or falsity of the allegations was less important than their triviality. Alabama's state auditor argued that there was nothing wrong with picking up a 14-year-old girl outside her parents' custody hearing, because (the Virgin) Mary was only a teenager when she married Joseph.
So, if Senate Republicans had some basis for doubting the allegations against Moore before the judge weighed in, they have none now. Few GOP officeholders have acknowledged this reality. But some former ones have.
It's worth stepping back for a moment, and remembering that Roy Moore was unambiguously unfit for office even before Thursday's revelations. The man believes that his interpretation of the Bible supersedes Supreme Court rulings — and repeatedly used his power as an elected official to undermine the rule of law. He has argued that Muslims should not be allowed to serve in Congress; that there are Christian communities in Illinois that have been forcibly subjected to the rule of Sharia law; and that consensual sex between adult men should be prosecutable offense.
The GOP's refusal to disown Roy Moore's candidacy was a scandal when this week started. Republicans were already asking Alabama voters to elect a lawless, delusionally bigoted theocrat to the Senate. Now, they're asking them to elect one who is also probably a child molester — on the grounds that there is no documentary evidence of his predations, and, anyway, corporations really need a tax cut.