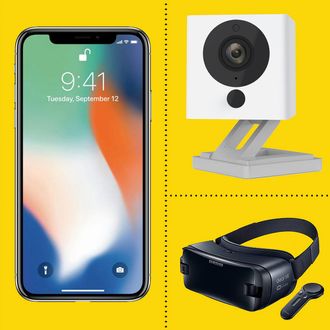 The holiday gifting season is officially upon us, folks. To help you deal, we've put together this helpful list of all of our favorite tech recs from the past few years — because there's no need to worry about stuff like which iPhone is right for you or what phone case you should buy when we've already done all the hard work for you. Think of this as your guide to all things gadget: from stocking stuffers to splurges, we've got you covered.
Also — be sure to check back, because we'll be updating this page as the season continues.
The 20 Best Gadget Gifts Under $25
The 16 Best Gadget Gifts Under $50
The 11 Best Gadget Gifts Under $100
The 18 Best Gadget Gifts Under $250
The 12 Best Gadget Gifts If You Want to Splurge
A Semi-Exhaustive Nintendo Switch Gift Guide
The Best Stocking Stuffer Is This Supercheap, Superlong Phone Charger
I Love My $5 Headphones and I Bet You Will, Too
This Portable Battery Keeps My Phone Charged for a Week
Obsessively Curated Lists
The Best Wireless Chargers for iPhone 8 and iPhone X
The Best Laptops for Every Kind of College Student
The Best Cases for Your Shiny New iPhone X
What Are the Best Wireless Headphones for a Serious Audiophile?
An Actual-Reality Guide to Virtual-Reality Headsets
4 Activity Trackers That Don't Look Like Tron Castoffs
Why You Want a Streaming Set-Top Box (and Which One You Should Get)
The Amazon HD Fire 10 Is a Comic-Book Fan's Dream Tablet
The Xbox One X Is the Best Console You Can Own. Should You Get It?
Why You Should Get an Echo Dot
Sonos One: A Smart Speaker That Actually Sounds Great
The Samsung Chromebook Plus: A Good Laptop and a Killer Tablet
You Should Buy an Amazon Echo — Right Now
Phones, Phones, and More Phones
iPhone X vs. iPhone 8: Which One Should I Get?
OnePlus 5T: A Premium Phone for a Non-Premium Price
Budget Phones You Won't Regret
Samsung Galaxy Note 8 Review: The Best Phone Around — for Now