Apple's iPhone X debuted in stores today. I've gotten to play around with it for a few hours, and can confirm that it's all-around a pretty great phone. But the most important thing you need to know about it right now is that it's going to change your selfie game forever.
I'm serious. Taking selfies on the iPhone X is a religious experience. Gone are the shaky-handed, perma-blurry thumb pics; in their place are selfies so well-lit and clear that your friends will think you hired a photographer.
The iPhone X selfies are exquisite for a number of reasons — the front camera now boasts a seven-megapixel camera, auto-image stabilization, and an ƒ/2.2 aperture (in layman's terms: The front camera is freaking great for its size) — but by far, the most important is the phone's Portrait Mode.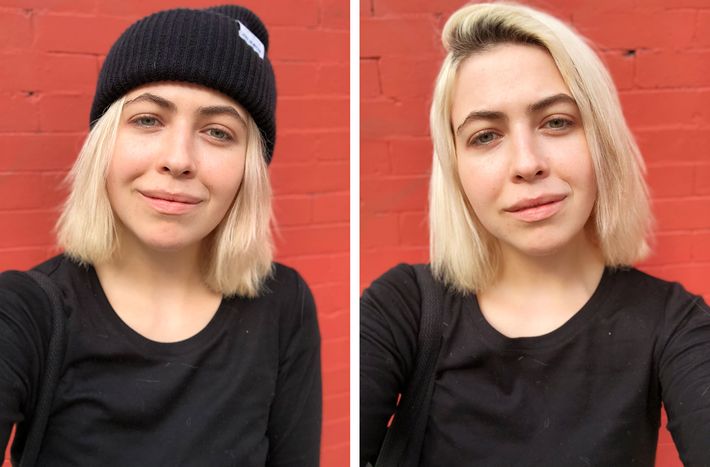 Ah, Portrait Mode. This incredible feature — which makes basically every photo you take look fantastic by using AI to determine which parts of your shot need to be focused, and which can be a little blurry in order to give you that ever-elusive This-Was-Totally-Shot-on-a-Much-Nicer-Camera vibe — can also technically be found on both the iPhone 7 Plus and the iPhone 8 Plus. But on those phones, it's only on the rear-facing (other people) camera. What sets the X apart is that it has Portrait Mode on both the back camera and the front-facing (me, me, me) camera. Which means glorious, glorious selfies.

What Portrait Mode selfies really bring to the table is Portrait Lighting. Though Portrait Lighting was technically first introduced on the iPhone 8 Plus, it really comes into its own when used to snap a close-up picture of your own face. Portrait Lighting provides you with four different preset auto-filters that make changes to the lighting and color of your shot, which often totally removes the need for most basic edits.

If you want to get the best results, I'd recommend using Portrait Lighting only when taking selfies with a simple background. As you can see in the examples above, while the baseline photo quality is good, the busy background (and general craziness of my hair) causes the AI to mess up and misapply the Portrait Mode blur and other added Lighting effects, which isn't exactly cute.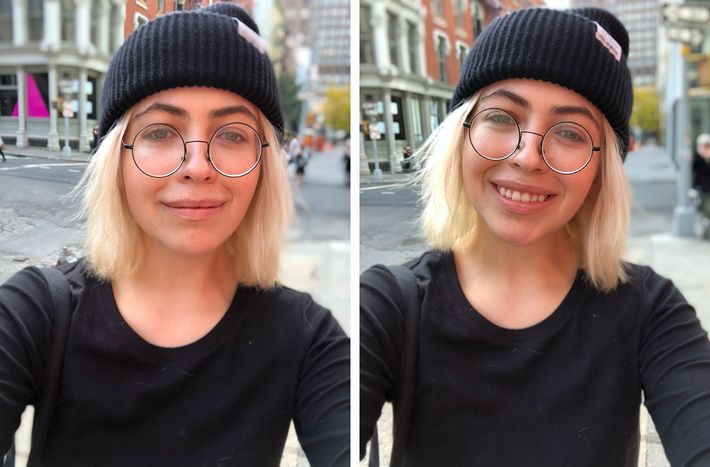 That being said, Portrait Mode by itself really excels when used with interesting backgrounds if you give it time to properly align the blur levels. The above photos were taken with minimal positioning, and they look pretty undeniably great for a quick street selfie. What can I say? A little bokeh makes honestly everything better.