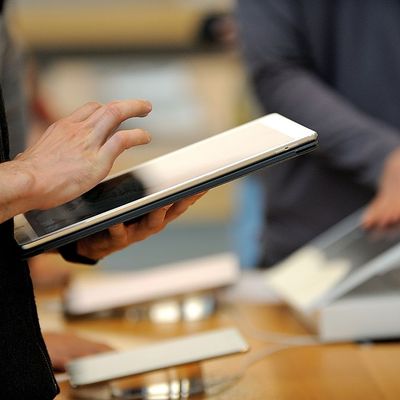 Photo: Anadolu Agency/Getty Images
Per Bloomberg's Mark Gurman, the next round of 10.5-inch iPad Pros will follow the iPhone X's lead and remove the home button and Touch ID in favor of Face ID, and shrinking its edges down significantly. This also means that things like animoji (and animoji karaoke) will be coming to an iPad near you soon, likely in spring of 2018.
It won't be getting an upgrade to OLED — though outside of the Samsung Galaxy Tab 3, there aren't many tablets on the market that have OLED screens. (Gurman doesn't mention this, but it's also unlikely to have the notch seen on the iPhone X, if only because the putative iPad will have a bit more room to play with.)
Apple has seen sales of iPads surge in 2017 after two years of declines, growing overall sales by 11 percent year-over-year in the fourth quarter of 2017. Part of this may be the price; Apple has aggressively cut prices on its 9.7-inch iPads, which you can snag for just $329 in the United States (and we've seen retail outlets lower that price to as low as $250). But the iPad Pro, which starts at $649, has also done well. While Apple doesn't break out individual products in its earnings report, overall revenue for iPads was up by 14 percent year-over-year — meaning that Apple was selling enough iPad Pros to offset reduced prices on lower-end models.
One of the reasons Apple jumped past the iPhone 9 and named its new phone the iPhone X (or "iPhone 10," as any Apple press person will cheerfully remind you) is because 2017 is the tenth anniversary of the original iPhone. But Apple has also said that the iPhone X is supposed to represent the next ten years of iOS as well. It looks like the next device to take a step into the future will be the iPad Pro.