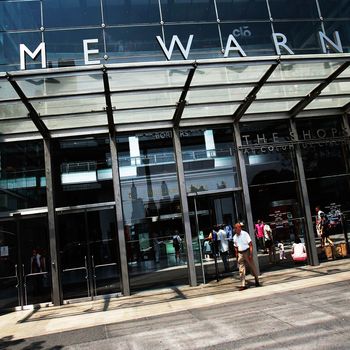 Time Warner's ownership of Trump-target CNN may endanger its merger with AT&T.
Photo: Chris Hondros/Getty Images
There is a real problem, it turns out, with having a president who repeatedly, publicly slams and obliquely threatens a media network for coverage he does not like: When a public policy decision affecting said network is made by said president's administration, it looks really bad, not to mention petty.
That's the situation now that the Justice Department has belatedly objected to the long-awaited merger of telecom giant AT&T and media giant Time Warner. According to multiple reports, the administration wants Time Warner to dump CNN before the merger goes through. The New York Times describes the demands bluntly:
The Justice Department has called on AT&T and Time Warner to sell Turner Broadcasting, the group of cable channels that includes CNN, as a potential requirement for approving the companies' pending $85.4 billion deal, people briefed on the matter said on Wednesday.
The Times reported back in July that the White House was considering precisely this kind of step to punish or intimidate CNN:
White House advisers have discussed a potential point of leverage over their adversary, a senior administration official said: a pending merger between CNN's parent company, Time Warner, and AT&T. Mr. Trump's Justice Department will decide whether to approve the merger, and while analysts say there is little to stop the deal from moving forward, the president's animus toward CNN remains a wild card.
Notes Politico after the latest news:
"The only reason you would divest CNN would be to kowtow to the president because he doesn't like the coverage," one source said. "It would send a chilling message to every news organization in the country."
No kidding.
It's true that Trump criticized the merger during the presidential campaign on grounds separate from his assessment of CNN, arguing that it would create "too much concentration of power in the hands of too few." But that objection wasn't taken too seriously until very recently. Here's Politico again:
Despite the campaign rhetoric, the companies were confident the merger review was moving toward approval until Makan Delrahim, Trump's newly installed DOJ antitrust chief, entered the picture in late September.




Before his nomination by Trump, Delrahim — a former tech and telecom industry lobbyist — said in an October 2016 television interview that that he didn't see the merger as a "major antitrust problem." But the source said Delrahim had been critical of the deal since taking the helm of the DOJ's antitrust division.
And now everything's on hold:
AT&T Chief Financial Officer John Stephens said at a conference Wednesday that the timing of the Time Warner merger is "now uncertain" as it continues making its case to the Justice Department. The companies agreed late last month to delay their self-imposed Oct. 22 deadline for closing the deal, which they announced more than a year ago.
The limitation, of course, on theoretically legitimate reasons for holding up the merger is that for purposes of chilling First Amendment rights, you simply need to create the fear that criticizing the president will have big-league business consequences. At best, it's the regulatory equivalent of a 100-mile-per-hour brushback pitch in baseball; you can almost feel the head injury so narrowly averted. At worst, it's more like a body slam:
Again, that's why presidents should not indulge themselves in talk of shutting up critics.