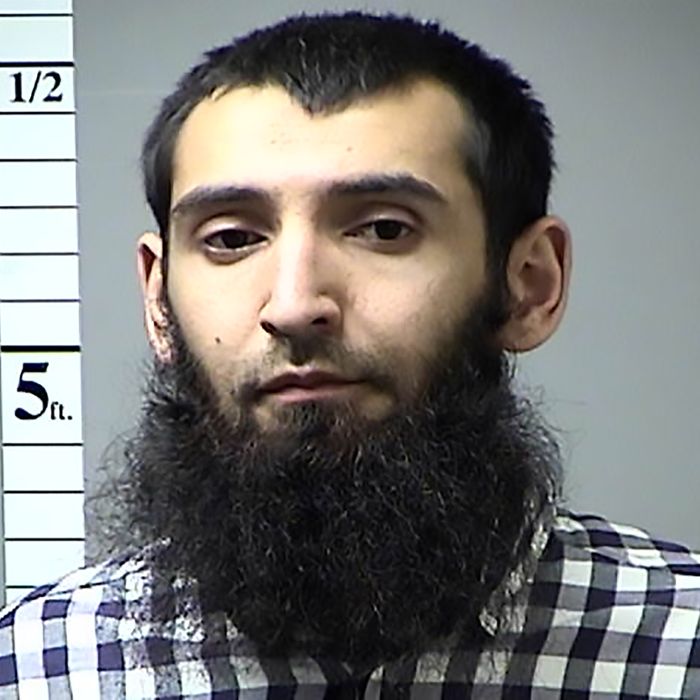 A mug shot of Saipov from a traffic-related infraction in 2016.
Photo: ST. CHARLES COUNTY DEPT. OF CORR/AFP/Getty Images
ISIS claimed responsibility on Thursday for the truck attack on Halloween in Lower Manhattan that left eight people dead and a dozen injured.
"One of the soldiers of the Islamic State attacked a number of crusaders on a street in New York City, close to the monument for the 9/11 raid, which resulted in killing and wounding more than 60 crusaders, and unto Allah is all praise," the terror group said in its weekly newsletter, according to a translation by SITE Intelligence Group, which tracks extremist groups.
ISIS called suspect Sayfullo Saipov "one of the soldiers of the Caliphate." It's not clear why they misstated the number of dead and wounded.
"The grace of Allah, the operation instilled fear in crusader America, prompting them to increase security measures and intensify actions against immigrants to America," the newsletter said.
Just hours after the attack, it was clear that it was inspired by ISIS. Saipov was heard yelling "Allahu Akbar" at the scene, and a note that declared ISIS "would endure forever" was found at the scene. The criminal complaint against Saipov said he had a large amount of ISIS propaganda saved on his phone, and asked to display an ISIS flag in his hospital room. NYPD officials also noted that he "followed almost exactly to a T" instructions the group has posted online for how to conduct attacks on civilians.
The FBI said it has yet to uncover any connections between Saipov and foreign terror groups, so it appears he was acting on his own.
The manner in which ISIS claimed credit was unusual. Earlier in the week, the New York Times reported that the group sometimes ignores perpetrators who are captured, as it encourages recruits to martyr themselves by dying in the attack. ISIS usually releases statements within 24 hours of an attack, using its Amaq News Agency, not its newsletter.