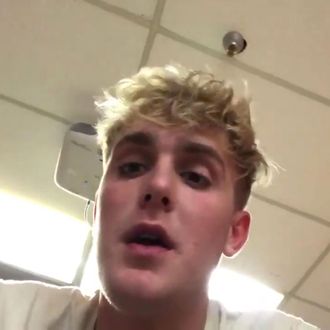 Jake Paul apologized in a low-res video on Thursday.
Photo: Jake Paul/Twitter
Jake Paul — bad neighbor, YouTube prankster, stopper of hurricanes – is finally admitting he's maybe not the nicest guy. Earlier this week, Ivan and Emilio Martinez — a pair of Spanish twins who were part of Paul's social-media incubator slash frat house Team 10 — posted a tell-all video explaining their decision to part ways with Paul. In it, the two described how they were constantly "scared" while living in the Team 10 house and that other members of the house talked about them and mocked them, knowing the brothers spoke almost no English at the time. At first, Paul denied their claims, but later tweeted two videos apologizing for how he treated the twins.
"I am so sorry to the Martinez twins. Nobody should ever feel bullied … We are in the business of pranking each other and creating video content around those pranks," Paul says. "However, it's obvious that with the language barrier between us the twins weren't always fully aware of what was going on and I should have done a better job of making sure they were fully informed about these pranks." Paul said he believed the Martinez twins were always onboard with the pranks — like being woken up with buckets of cold water or an electric shock — and that things got "lost in translation."
Paul also says that the brothers never came to his or explained their situation, and that he "never meant to hurt the Martinez twins." "If I ever knew the twins felt that way I would have resolved the situation," Paul said. "I have nothing but love for the twins."