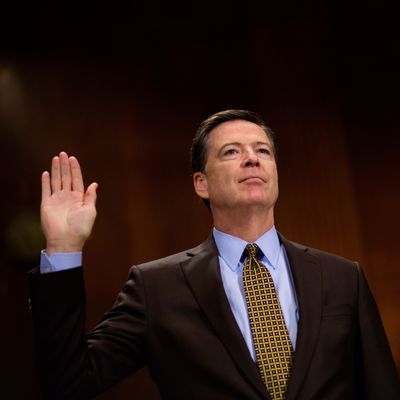 Lordy, I wrote a book.
Photo: Eric Thayer/Getty Images
Back in January, President Trump invited James Comey, then the director of the FBI, to the White House for a one-on-one dinner. The meal, which sounds terribly uncomfortable in Comey's retelling, reached peak awkwardness when Trump said, "I need loyalty, I expect loyalty." As Comey later told Congress, he just stared back at Trump without reacting.
Four months later, he was fired. And six months after that, Comey is about to release a book detailing, among other things, his time at the FBI and his run-ins with Trump. On Thursday, the cover and title of the book were announced via Axios and the reference to Trump's request for "loyalty" is obvious.
Comey, who's recently increased his Twitter presence in a pretty clear move to help him sell more books, tweeted a link to the Axios story and deployed his catchphrase.
Lordy indeed.