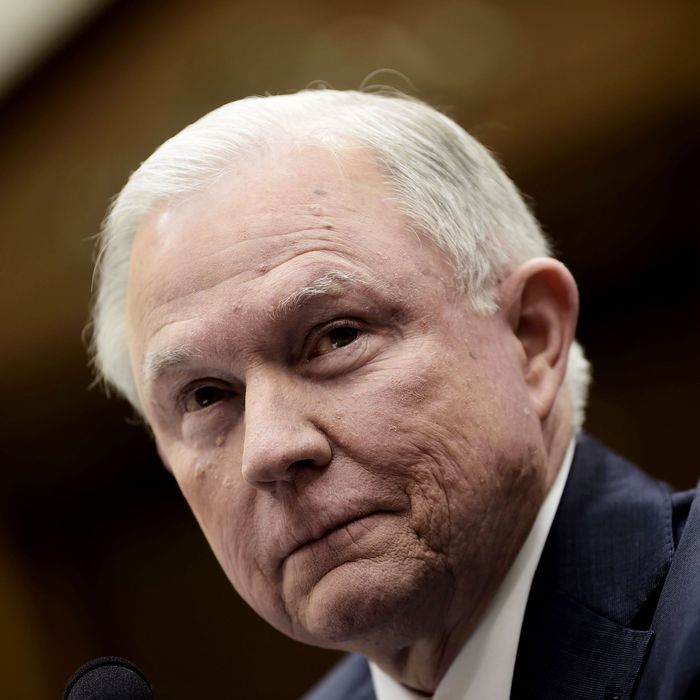 I always tell the truth, even when I lie.
Photo: Brendan Smialowski/AFP/Getty Images
Jeff Sessions's memory works in mysterious ways. He has "no clear recollection" of the March 2016 meeting where George Papadopoulos offered to set up a meeting between Donald Trump and Vladimir Putin — but the attorney general does remember shooting down the campaign aide's unseemly suggestion.
Or, so Sessions tells the House Judiciary Committee.
In October, Sessions testified to the Senate that he did not have any "continuing exchange of information" with Russian operatives — and that he wasn't "aware of anyone else [on the Trump campaign] that did." Weeks later, Special Counsel Robert Mueller revealed Papadopoulos's confession to the crime of lying to the FBI. In that written statement, the former Trump campaign national security adviser claimed that he had told Sessions about "connections" he had that "could help arrange a meeting between then-candidate Trump and President Putin" in March of last year. In his testimony before Congress Tuesday, Sessions tried to account for this apparent discrepancy.
"I do now recall the March 2016 meeting at Trump Hotel that Mr. Papadopoulos attended, but I have no clear recollection of the details of what he said at that meeting," Sessions explained. "After reading his account, and to the best of my recollection, I believe that I wanted to make clear to him that he was not authorized to represent the campaign with the Russian government, or any other foreign government, for that matter."
Later, Sessions said more firmly, "At the meeting, I pushed back."
So, the attorney general has no clear memory of the meeting, but has a vivid recollection of behaving admirably during it.
This isn't the first time that Sessions's memories of last year have failed him. In January, the attorney general testified to the Senate that he had not "been in contact with anyone connected to any part of the Russian government about the 2016 election, either before or after election day." Months later, the Washington Post revealed that Sessions had met with the Russian ambassador to the United States multiple times during the 2016 campaign. Sessions responded to these revelations by insisting that he'd met with Ambassador Sergey Kislyak in his capacity as U.S. senator (not as a Trump surrogate), and that they did not discuss the 2016 election. Sessions later conceded that it was "possible" that Trump's positions on U.S.-Russia relations came up in his discussions with Kislyak.
Some Democrats have suggested that Sessions's multiple false statements to Congress this year were conscious lies. The former senator responded to such charges with indignation Tuesday.
"My answers have not changed," Sessions said. "I have always told the truth, and I have answered every question as I understood them and to the best of my recollection, as I will continue to do today … I will not accept and reject accusations that I have ever lied under oath. That is a lie."
Elsewhere in his testimony, Sessions disappointed congressional Republicans by saying that the Justice Department would need a "factual basis" to appoint a second special counsel tasked with investigating Hillary Clinton's role in the Uranium One deal, and that no such basis currently exists.
This makes sense, given that:
1) Special counsels are generally used when the Justice Department's own lawyers have a conflict of interest in a certain investigation.
2) The only conflict that Justice Department lawyers might encounter in prosecuting Clinton for her role in the Uranium One deal is that there was nothing remotely illegal about the Uranium One deal.
Finally, on a wholly separate note, Sessions said he had "no reason to doubt these young women" who are accusing Republican Senate candidate Roy Moore of sexual abuse. Moore will seek election to Sessions's former Senate seat on December 12. Multiple women have accused Moore of sexually assaulting them when they were teenagers and he was in his 30s. (The women are now in their 50s.)
Republican leaders have considered trying to convince Sessions to enter the race as a write-in candidate, thereby giving Alabama voters an alternative to voting for a possible sexual abuser of teenagers or certain Democrat. But Sessions has given no indication that he's interested in vacating his current post.