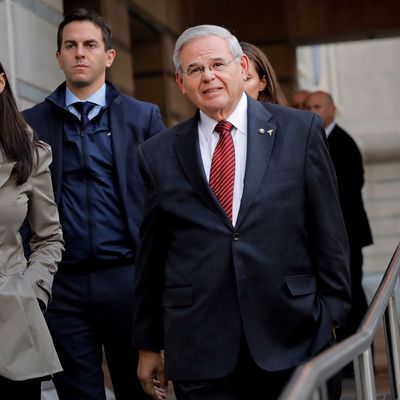 Career in the balance.
Photo: Peter Foley/Bloomberg via Getty Images
Jurors in the federal corruption trial of New Jersey Democratic senator Robert Menendez and a wealthy donor told the judge in the case that they had failed to reach a verdict on any of the 18 counts against them.
Judge William Walls advised jurors to "go home and have a good meal and have a good sleep" before trying again on Tuesday.
Menendez's lawyers said that the case should be declared a mistrial, an argument Walls rejected.
Menendez stands accused of accepting extravagant gifts from Florida ophthalmologist Salomon Melgen between 2006 and 2013, in exchange for helping Melgen navigate various political disputes. (Melgen was convicted of Medicare fraud by a federal jury earlier this year.) Defense attorneys have said that the two were merely friends, and that Menendez did not engage in any quid pro quo. A recent Supreme Court decision vacating the conviction of former Virginia governor Bob McDonnell made it more difficult to obtain convictions in cases like Menendez's by tightly defining what constitutes corruption.
The trial has lasted 11 weeks, and the jury has been deliberating since last week.
On Friday, Evelyn Arroyo-Maultsby, a juror who was dismissed from the case because of a previously planned vacation, told reporters that the trial was headed for a hung jury, with several jurors poised to vote "not guilty" on the most serious charges against Menendez, which include bribery and conspiracy charges.
An alternate juror was subbed in on Monday, meaning that deliberations had to start from scratch. Four jurors and three alternates admitted to having seen coverage of Arroyo-Maultsby's comments, but Judge Walls did not view that as an impediment to moving forward with the trial.