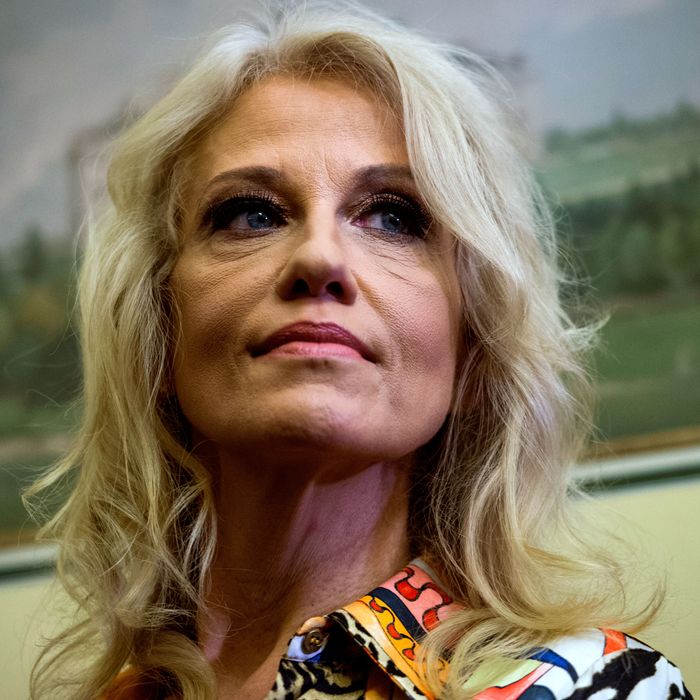 Where there isn't a will, there's a Conway.
Photo: Tom Williams/CQ-Roll Call,Inc.
In 2016, 50,000 Americans lost their lives to the opioid epidemic, according to the federal government's preliminary count. That's more than the number of Americans killed in combat in Vietnam, or that died during the worst year of the AIDS crisis, or that die annually from car accidents or gun violence.
In response to this mass death, public-health advocates have implored the Trump administration to mount a more comprehensive effort to the opioid crisis. One of their proposals was for the president to appoint an opioid "czar" — an official with the time and expertise to coordinate the federal government's response to the worst drug-overdose epidemic in American history.
The administration has decided to honor this request. In a gesture meant to convey just how seriously President Trump takes his responsibility to combat the opioid emergency, Attorney General Jeff Sessions announced on Wednesday that Kellyanne Conway would be assuming duties consistent with those of an opioid czar.
Conway is a career pollster and pundit, best known for managing Donald Trump's presidential campaign and telling brazen lies on cable news. While she has been a part of the White House's opioids response from its beginning, she has no background in public health. And it is not immediately clear whether she will be abandoning her surrogate duties to devote herself to her new assignment.
Andrew Kolodny, an opioid policy expert at Brandeis University, told BuzzFeed News that he sees Conway's appointment as a "positive sign," since "she is a high-profile figure in the administration." But Kolodny — and other opioid policy experts and stakeholders — were quick to note that Trump still hasn't appointed anyone to lead the Office of National Drug Control Policy. Which seems like something an administration that cared deeply about reducing the suffering caused by this epidemic would have bothered to do.
Last month, Trump declared the opioid crisis a public-health emergency — while declining to call for a single dollar in additional funds to combat the crisis. Meanwhile, the president and his party spent most of this year trying to slash Medicaid spending by $1 trillion, even though that program is one the top funders of addiction treatment in the United States.