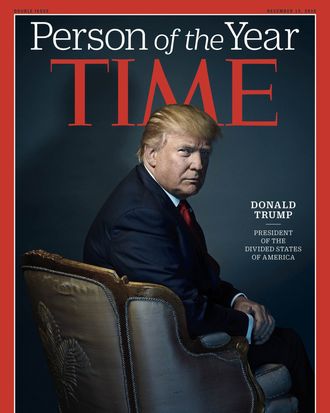 Don't tell Trump his favorite magazine is up for sale.
The Koch brothers appear to be in the market for a media outlet once again. The New York Times reports that conservative billionaires Charles and David Koch are backing a deal that would allow Meredith Corporation to buy Time Inc.
This is the third time Meredith — which publishes Better Homes and Gardens and Martha Stewart Living — has considered buying Time Inc., publisher of Time, People, and Sports Illustrated. Meredith mulled purchasing some Time Inc. titles in 2013, shortly before Time Warner spun its magazine business into a separate company. Last year another round of talks fell apart, reportedly because Meredith didn't want certain Time magazines.
The negotiations, which have been underway for several days, could move quickly this time, thanks to the Kochs. The Times reports the brothers have tentatively agreed to support Meredith's offer by investing more than $500 million.
It's not clear if the Kochs, who spent more than $720 million to back conservative candidates and causes in the 2016 election, would have any influence over Time's publications. In 2013 they considered purchasing the Tribune Company's eight newspapers, including the Los Angeles Times and Chicago Tribune, but they ultimately decided they weren't interested.