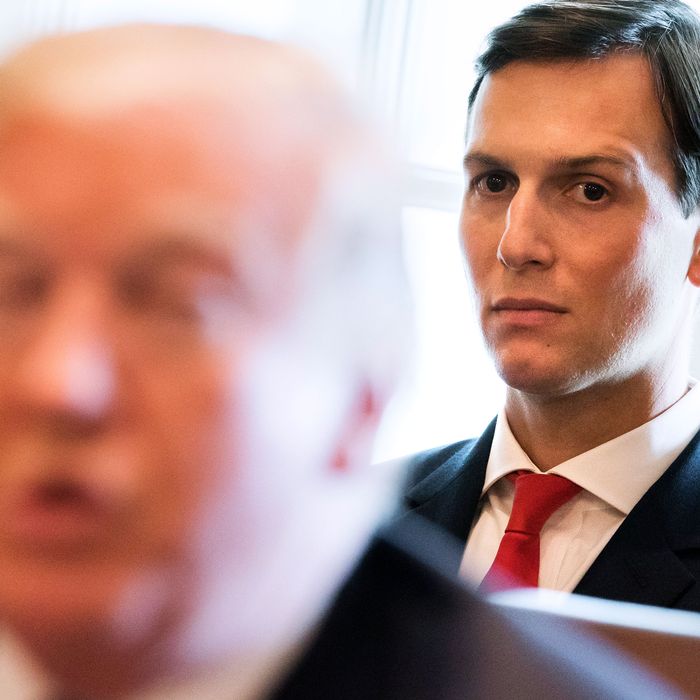 But his emails.
Photo: Saul Loeb/AFP/Getty Images
Jared Kushner received and then forwarded emails concerning WikiLeaks and a "backdoor overture" from Russia during the 2016 presidential campaign but failed to turn them over to Senate investigators, according to the leaders of the Senate Judiciary Committee.
"We appreciate your voluntary cooperation with the Committee's investigation, but the production appears to have been incomplete," Chairman Chuck Grassley and ranking member Senator Dianne Feinstein wrote in a letter to Kushner's lawyer Thursday.
Under a section of the letter entitled "Missing Documents," the senators write that documents other people disclosed show that Kushner had emails he should have turned over too.
For example, other parties have produced September 2016 email communications to Mr. Kushner concerning WikiLeaks, which Мr. Kushner then forwarded to another campaign official. Such documents should have been produced in response to the third request but were not. Likewise, other parties have produced documents concerning а "Russian backdoor overture and dinner invite" which Mr. Kushner also forwarded.
"You also have not produced any phone records that we presume exist and would relate to Mr. Kushner's communications," Grassley and Feinstein added. The senators gave Kushner a November 27 deadline to turn over the missing records.
Kushner's lawyer Abbe Lowell, to whom the senators' letter was addressed, responded in a statement that said he provided Senate investigators with "all relevant documents."
Kushner's failure to turn over these emails is not the first time President Trump's son-in-law has been caught concealing information about his relationship with Russia. In July, he admitted to four separate contacts with Russians during the campaign and the transition. All of those contacts were left off the security-clearance forms he filled out in order to gain access to some of the government's most guarded secrets. But he got the clearance anyway and, much to the chagrin of some Democratic lawmakers, still has it.