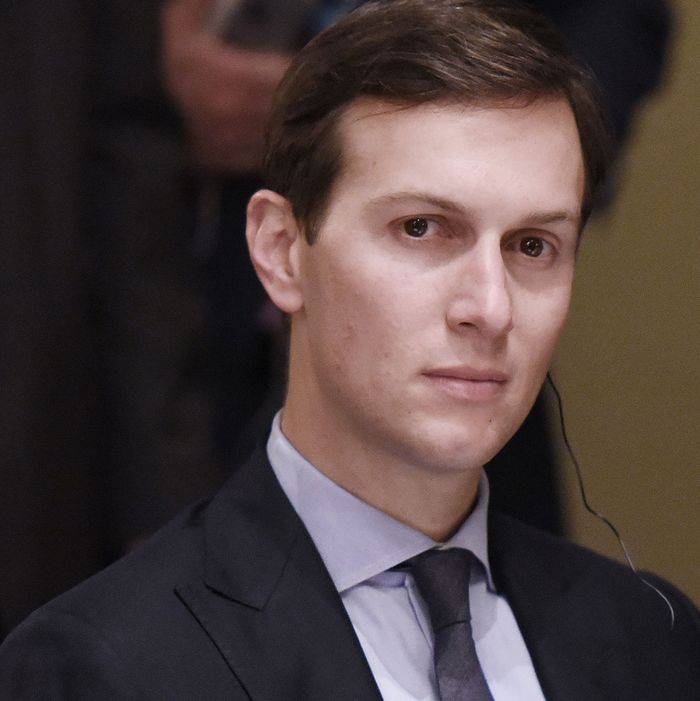 He's already in too deep.
Photo: Pool/Getty Images
In news that will shock no one, Jared Kushner is not going to rewrite all of America's trade agreements, modernize technology throughout the federal government, remodel workforce-training programs, and end the opioid epidemic. Now he's just focusing on solving the Israeli-Palestinian conflict — and it doesn't sound like that's going very well either.
In the first few months of his administration, President Trump seemed to dump just about every thorny task he encountered onto his son-in-law, who has no government experience. But on Tuesday, Vanity Fair's Gabriel Sherman reported that Kushner lost a tremendous amount of influence as new White House chief of staff John Kelly sought to bring order to the Trump administration. "Kelly has clipped his wings," said a source close to the White House.
Though searching for an end to the decades-old conflict in the Middle East seems like the kind of thing that could keep Kushner out of Kelly's hair, he still managed to anger the chief of staff. Kelly was reportedly displeased by a report that during his recent trip to Saudi Arabia, Kushner stayed up until 4 a.m. strategizing with Saudi crown prince Mohammad bin Salman. This occurred just days before the prince seized power by conducting a purge within the royal family, sparking questions about whether the administration was aware of what was about to take place, or even helped plan it. (The White House denied this.)
President Trump is said to be frustrated by Kushner's political advice, and concerned that his son-in-law and daughter Ivanka are being damaged by negative press. He's reportedly pressuring them to go back to New York, but at this point, giving up on their dream of being a moderating force in Trump's White House probably wouldn't solve their problems.
Thanks to his heavy involvement in Trump's operation since the campaign, Kushner is involved in various matters under investigation by special counsel Robert Mueller. Now The Wall Street Journal reports that Mueller's team is asking questions about Kushner's interactions with foreign leaders during the transition, including even a dispute last December over a United Nations resolution that condemned Israel's construction of settlements in disputed territories. Israeli officials said that they reached out to Trump officials to help block the resolution. Trump posted a Facebook message saying it should be vetoed, but the Obama administration opted to let it go through. Under the obscure Logan Act, Americans are prohibited from attempting to influence a foreign nation involved in a dispute with the U.S.
Investigators are also looking into Kushner's many contacts with foreign governments. Kushner initially listed no such contacts on a government form required to obtain security clearance. He said that was an "administrative error" and updated the form at least three times, listing more than 100 contacts with 20 nations.
The Journal noted that many questions come up during the course of an investigation, and "inquiries don't necessarily indicate suspicion." But Kushner's in deep enough that the Mueller probe would follow him, even if he were to assume a more traditional role for the husband of the president's daughter, i.e. limiting his White House visits to major holidays.