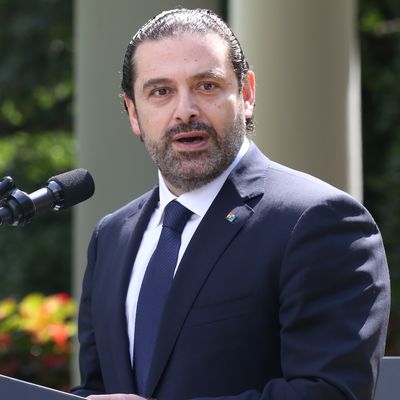 Hariri.
Photo: Tasos Katopodis/Getty
In a strange interview given on a Saudi television station that he owns, a haggard-looking Lebanese prime minister Saad Hariri said that he was not being held against his will by Saudi Arabia, days after his abrupt resignation and flight from Lebanon startled the Middle East.
Hariri said he would be returning to Lebanon in a few days to formally submit his resignation.
His decision to step down on November 4 left political observers baffled. But many speculated that Saudia Arabia had forced Hariri, who is a Sunni Muslim, to resign in an effort to isolate Hezbollah, the Shiite militant group and Iran ally that has enormous influence in Lebanon. In initial remarks after his resignation, Hariri condemned Hezbollah for creating "discord, devastation and destruction, proven by its interference in the internal affairs of Arab countries."
On Sunday, Hariri framed his departure as a "wakeup call" for Lebanon not to get involved in regional conflicts, and maintained that he was free to travel as he pleased. But reports have indicated that Hariri is, in effect, a Saudi hostage, and his uneasy performance on Sunday is unlikely to quell that impression.
Saudi Arabia and Iran are engaged in a long-running proxy war that includes battlefields in Syria and Yemen, where an already devastating Saudi blockade has left famine imminent. Saudi Arabia's increasingly assertive foreign policy, which also includes a blockade of Qatar, coincides with the rise of 32-year-old Crown Prince Mohammed bin Salman, who recently ordered the arrests of a number of prominent ministers, princes, and businessmen under an ostensible "corruption" crackdown. That move, as well as bin Salman's aggressive posture toward Iran, has the backing of President Trump.
After Hariri's resignation, Hezbollah accused Saudia Arabia of declaring war on Lebanon, raising fears of a new regional conflict. Whether Hariri's return to his country will calm the waters in any substantial way remains to be seen.