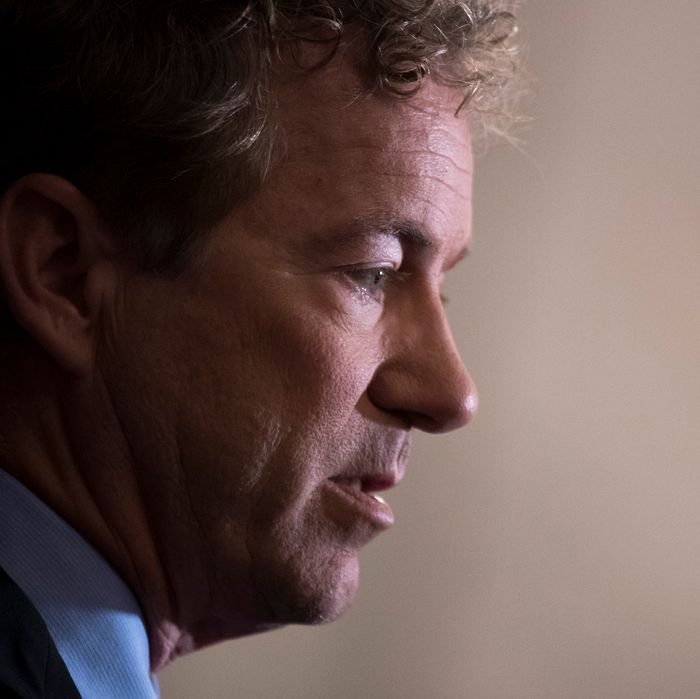 Rand Paul.
Photo: Drew Angerer/Getty Images
Senator Rand Paul was assaulted by his neighbor while mowing his lawn at his residence in Bowling Green, Kentucky, on Friday afternoon, suffering minor injuries. His assailant, a 59-year-old man named Rene Boucher, was subsequently arrested by Kentucky State Police and charged with fourth-degree assault, a misdemeanor.
The FBI is currently investigating the incident to see if it was politically motivated, but according to WAVE 3 News, the GOP senator and his neighbor have had an ongoing feud. The Bowling Green News reports that, according to the police report, Paul said that Boucher attacked him from behind, knocking him to the ground. Paul apparently suffered injuries to his face and was having some trouble breathing on account of an injury to his rib.
Boucher, an anesthesiologist, was reportedly once registered as a Democrat and had criticized President Trump on his Facebook page — but it is not clear that the assault had anything to do with politics, and WAVE 3 didn't find any Facebook posts from Boucher mentioning Paul. Boucher also once developed a back-pain vest, which was marketed by QVC.
One of the senator's spokespersons explained on Saturday that Paul was "blindsided" in the attack, but that the senator was "fine" and everything was "now a matter for the police." That investigation is ongoing.
This post has been updated.