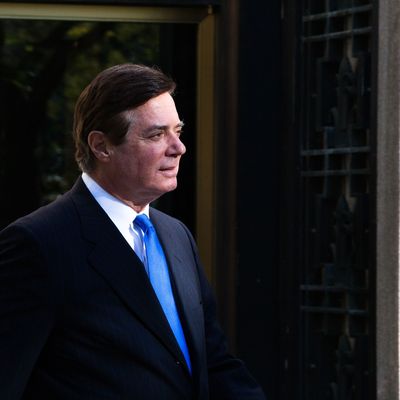 It's gonna be a long 2018.
Photo: Keith Lane/Getty Images
A district judge has proposed that the trial for former Trump campaign manager Paul Manafort and his business partner Rick Gates be set for May 7, 2018.
Judge Amy Berman Jackson said that she'll hear arguments about the start date on November 6, and that once a date is set, it is final. The timing could be politically important if the trial becomes a long-lasting spectacle and bleeds into campaign season for the 2018 midterm elections. Cognizant of the intense media glare, Jackson said on Thursday that she was considering issuing a gag order against lawyers in the case, which would restrict their public statements about it.
Manafort and Gates, who worked together as political consultants for years in Ukraine and elsewhere, were indicted and charged on Monday with several criminal counts, including money laundering, making false statements, and violating the Foreign Agents Registration Act, an oft-unenforced law mandating that people who work with foreign governments keep the U.S. government apprised of their actions. They were the first people to be swept up by special counsel Robert Mueller's probe into Russian electoral interference. Both pleaded not guilty to the charges against them.
Manafort's lawyers are challenging the basis of those allegations, arguging that the money laundering charge rested on a "tenuous legal theory." They have also asked Jackson for more time to put together a bail package that could release Manafort from house arrest.