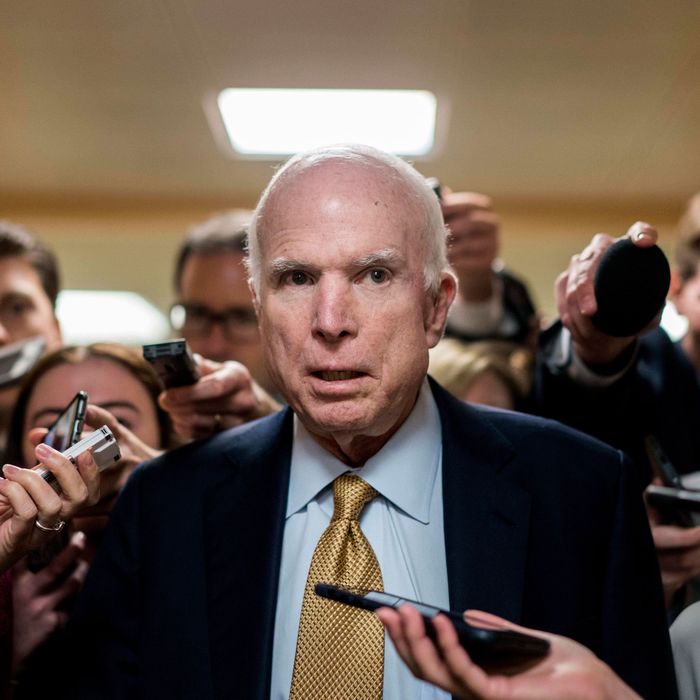 Yay or nay?
Photo: Melina Mara/The Washington Post/Getty Images
In an Esquire interview posted on Monday, Senator John McCain went into detail about his dramatic July vote that helped kill Republicans' "skinny repeal" bill, the closest the party has come to fulfilling its promise to obliterate Obamacare. (Senators Lisa Murkowski and Susan Collins were the other Republican no votes.)
McCain, a traditionalist, had been complaining for weeks before the vote that the rushed, secretive process by which Republicans were trying to jam the bill through did not conform to regular order. Days before the vote, he delivered an impassioned speech in which he pleaded for a return of old-fashioned legislative protocol. But as Esquire's David Usborne puts it, "while McCain has always been good with a sermon, his record of delivering on his own admonitions has been uneven."
This time, though, McCain made good on his own maverick mythology, delivering a thumbs-down for the ages. The magazine sets the scene:
Few were aware of the extraordinary pressure McCain had been under just before the vote. Vice-President Pence tried to persuade him both on the Senate floor and in his private office, where McCain took a call from Trump. "I said, 'I thank you, Mr. President, for your involvement,' " he told me. "But I said, 'I cannot vote for something called Skinny Repeal. I can't do it. I didn't even see the bill until today. I mean, this is insanity. I appreciate the call and now I have to go vote, and I'm sorry."
McCain has inoperable brain cancer, and is not expected to seek reelection. He is, to put it mildly, no friend of President Trump. He seems to have a newfound appetite to actually live up to the individualist image that reporters have been tagging him with for years.
Now, he faces another test of his resolve: the Republican tax plan, which may come up for a vote as soon as this week. Like "skinny repeal," the tax bill is being rushed through Congress, with nary a serious hearing on its far-reaching consequences. Its unpopularity aside, it is, procedurally speaking, another insult to the institution that McCain holds so dear. With nothing left to lose, or to prove, it makes logical sense for the senator to give it another emphatic thumbs-down. Will he?