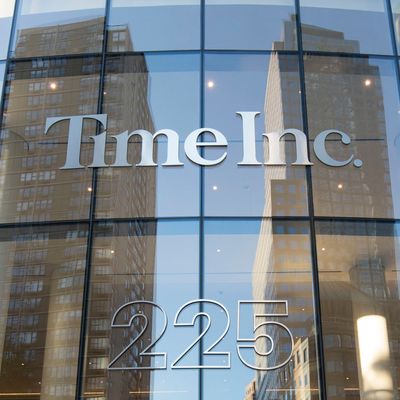 The end of an era.
Photo: Eugene Gologursky/Getty Images for Time Inc.
The Meredith Corporation has closed a $2.8 billion deal to buy Time Inc, with the companies finalizing and announcing the acquisition on Sunday night. Meredith's bid was bolstered by $650 million from the private-equity firm of conservative megadonors Charles and David Koch, but Meredith said on Sunday that the brothers' firm will not get a board seat and will "have no influence on Meredith's editorial or managerial operations." That would apparently mean the investment is strictly a business opportunity for the Kochs, but as the New York Times points out:
[O]thers familiar with the Kochs' thinking speculated that they intend to use the media properties — which reach millions of online and print readers — to promote their brand of conservatism. The investment would also give the Kochs a way to combine the arsenal of voter information held by a data analytics company controlled by their network, i360, with the publishers' consumer data.
The Des Moines–based Meredith publishes the magazines Better Homes and Gardens, Family Circle, and Shape, among others, and had a market capitalization of $2.7 billion prior to the deal. Time Inc. owns Time, People, Sports Illustrated, Fortune, Entertainment Weekly, and numerous other print and digital media properties, and has been in business since 1922. Like most other magazine conglomerates, however, Time Inc. has struggled to adapt to the rise of digital and decline of print. The company has seen its revenue drop every year since 2011, and was spun off from parent company Time Warner in 2014.
In October, Time Inc. announced that it would be restructuring and cutting back circulation of some of its most popular magazines in an attempt to reduce costs and increase profitability. Rumors of a potential acquisition have swirled around the company for a long time; Meredith tried and failed to put together a deal earlier this year after being unable to secure enough financing. They also tried to buy some of Time Inc.'s titles from Time Warner in 2013 before the spinoff.
Meredith will now pay $18.50 per share in an all-cash transaction for the company. The deal is expected to close in the first quarter of next year, and will likely mean the end, via consolidation, of one America's most storied magazine publishers.
This post has been updated throughout to reflect the finalization of the deal.