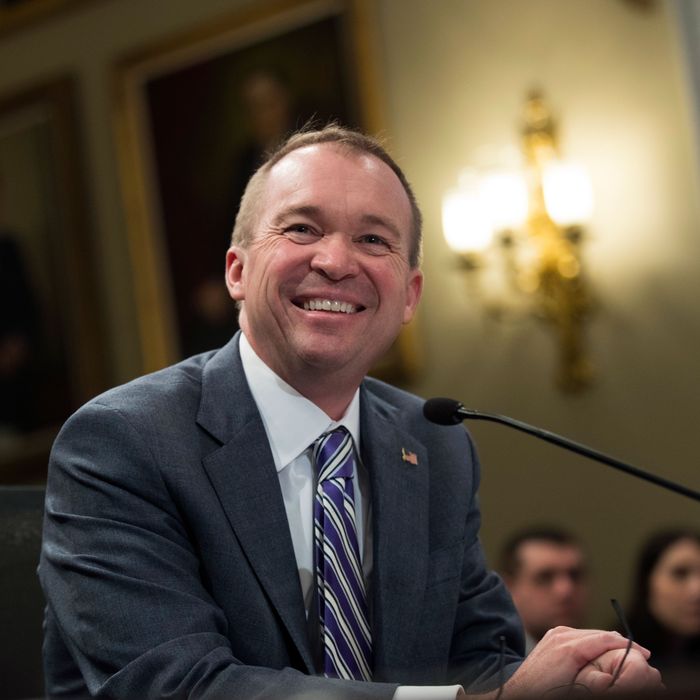 Mick Mulvaney.
Photo: Drew Angerer/Getty Images
The Consumer Financial Protection Bureau (CFPB) is a regulatory agency dedicated to preventing banks and credit-card companies from scamming ordinary Americans. The agency has won more $12 billion in settlements for American consumers. This has made the CFPB extremely popular with the public — and extremely despised by banks, credit-card companies, and, by extension, the Republican Party. White House budget director Mick Mulvaney has been especially bracing in his criticism of the agency. As a congressman, Mulvaney called the CFPB a "sick, sad joke."
Now, he will run it.
Earlier this week, the CFPB's first and only director, Richard Cordray, resigned. Appointed by Barack Obama, Cordray's term was not set to expire until July of next year. But he opted to bow out early, possibly to mount a run for governor of Ohio as a Democrat. President Trump will soon name Mulvaney as the consumer bureau's interim director, CBS News reports. Mulvaney is expected to stay on as budget director, while overseeing the CFPB, until a permanent replacement for Cordray is appointed and confirmed.
Since taking office, the Trump administration has been plotting to overhaul (read: neuter) the bureau. Congressional Republicans gave a taste of what this will entail last month. Many banks and credit-card companies sneak clauses into their contracts that force consumers to settle disputes through arbitration, instead of taking the firms to court. The CFPB barred such clauses, so as to preserve consumers' access to class-action lawsuits — and, thus, a disincentive for financial firms to rip off their customers. In late October, Republicans voted to kill that rule before it took effect.
Mulvaney is profoundly unqualified to carry out the CFPB's mission. But he is very well suited to sabotage that mission. And by establishing Mulvaney as the status quo option, the White House should have an easier time getting a less conspicuous enemy of the agency confirmed by the Senate.