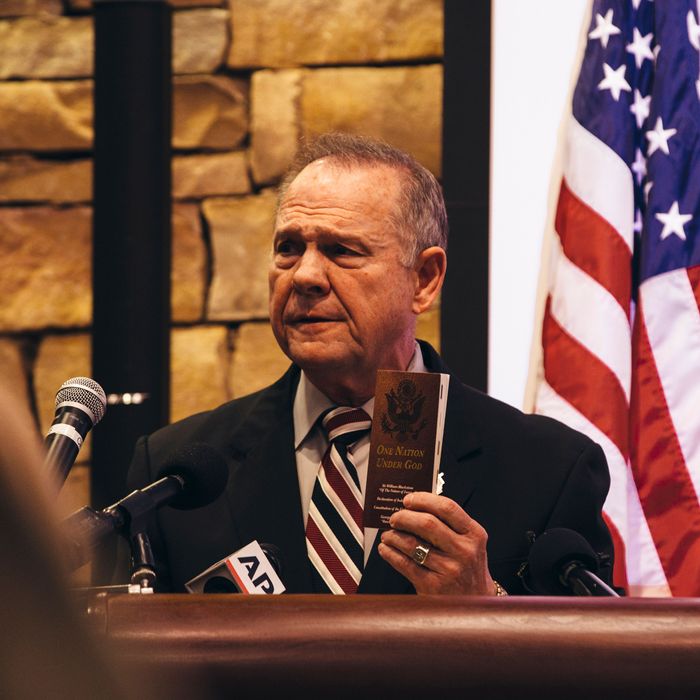 Photo: Wes Frazer/Getty Images
Senate Majority Leader Mitch McConnell became the highest-profile Republican yet to suggest that Alabama Senate candidate Roy Moore should drop out of the race after the Washington Post reported allegations that Moore was sexually involved with teenage girls when he was in his 30s.
McConnell said that Moore should "step aside," and that he believed the women who have alleged sexual misconduct. He also said Republicans were considering a write-in option to replace Moore on the ballot.
Moore responded with the oldest comeback in the book, arguing that McConnell is the one who should call it quits.
Several GOP senators have rescinded their endorsements of Moore in recent days — Maine's Susan Collins and Utah's Orrin Hatch became the latest on Monday afternoon — but McConnell and others had initially reacted to the Post report by attaching the caveat "if true" to their condemnations of the candidate. This rhetorical device was echoed by White House advisers over the weekend.
McConnell is extremely unpopular among the anti-Establishment Republican crowd that makes up Moore's base. Nevertheless, the Senate Majority Leader's newly unambiguous stance adds to the candidate's mounting woes.
Attorney Gloria Allred also announced that another woman would be coming forward with allegations against Moore on Monday afternoon.