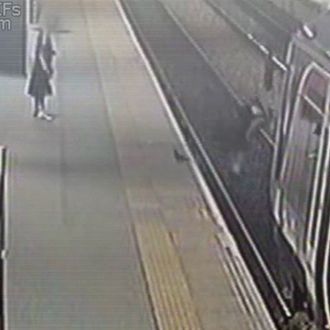 Donald Trump … definitely don't retweet this video.
On Wednesday morning, many of us woke up to find that Donald Trump had spent the morning retweeting Islamophobic videos originally tweeted by Jayda Fransen, leader of the far-right Britain First Party. The videos claimed to show a Muslim man destroying a statue of the Virgin Mary, an "Islamist mob" pushing a kid off of a roof, and a Muslim boy beating up a Dutch boy on crutches. The videos were unverified and shared without any sources; the third video was later found to be a video of two Dutch boys — the "Muslim boy" just happened to be a Dutch kid with dark hair contrasted to the boy on crutches who had blond hair.
This morning, a Twitter account called @British_First started tweeting similarly bogus videos at Donald Trump. In one, a "Muslim-trained pigeon hurls man on to train track." This is clearly what is happening in this video. Other videos include an illegal immigrant's dog tripping a man into falling into the ocean, and a man smoking his face off a road sign "booby-trapped by Muslim gang [to floor] patriot." Again, all very real videos with accurate and honest descriptions of what is happening in them.
Donald Trump, if you're reading this, definitely retweet these videos.