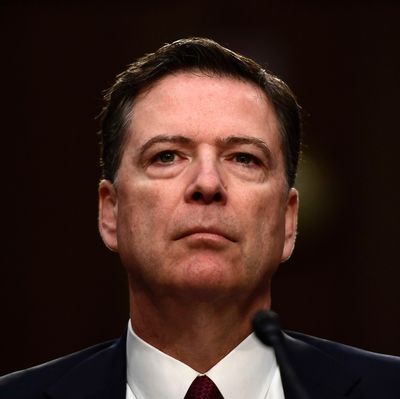 Mueller still has some questions.
Photo: BRENDAN SMIALOWSKI/AFP/Getty Images
Just before firing James Comey, President Trump reportedly drafted a multi-page letter in which he laid out his issues with the FBI director. According to the Washington Post, Trump expressed that he was upset that Comey wouldn't publicly deny that the FBI's Russia probe wasn't focused on him personally.
Now, the special counsel's team is requesting documents that make it sound like they're looking into whether Trump himself obstructed justice by firing Comey, in addition to all the Russia contacts former campaign officials can't quite remember.
ABC News reported that, in the last month, Mueller's team has requested Justice Department emails and other documents related to the firing of Comey and Attorney General Jeff Sessions's decision to recuse himself from all investigations related to the Russia matter. Muller already sought White House documents related to the FBI director's dismissal, but this would be the first time he's directed a records request to the Justice Department — the department in charge of his entire probe. That would include discussions between Sessions and Deputy Attorney General Rod Rosenstein, who laid out the reasons Comey should go, and their contacts with the White House.
This, coupled with a recent report that Mueller was preparing to interview Trump's communications director, Hope Hicks, has led some to conclude that the probe is reaching a pivotal moment. Hicks, who's worked with Trump for years, was on-hand during many key incidents — from interacting with campaign advisers linked to Russia, to the president's drafting of a statement on his son's meeting with Kremlin-connected Russians.
"Anytime you can get someone who is the right-hand person or who's been around the primary target of an investigation, under oath, answering detailed questions, means you've progressed very far along in the investigation," Adam Goldberg, a former Clinton White House lawyer, told Politico.
According to the Washington Post, White House lawyer Ty Cobb is telling concerned Trump aides it's good that Mueller is closing in on the president's inner circle, as it means the investigation is nearly over, and soon they'll all be exonerated. While Cobb initially said he hoped Mueller's team would have moved on from probing the White House by Thanksgiving, he's now adjusted that to the end of the year.
Cobb even painted being questioned by Mueller as a good thing. "The people who have been interviewed generally feel they were treated fairly by the special counsel, and adequately prepared to assist them in understanding the relevant material," he told the paper. "They came back feeling relieved that it was over, but nobody I know of was shaken or scared."
But others are far less optimistic. "The president says, 'This is all just an annoyance. I did nothing,'" said a person close to the administration. "He is somewhat arrogant about it. But this investigation is a classic Gambino-style roll-up. You have to anticipate this roll-up will reach everyone in this administration."
Sources close to Muller suggested there's still much work to be done, and legal experts said they expect the probe could last through 2018, and maybe even longer. They note that the trials of two of the three people charged so far, former Trump campaign chair Paul Manafort and his business partner Rick Gates, won't start for months.
"I don't think there's any reason to believe this is almost over," said Randall Eliason, a former federal prosecutor turned George Washington University law professor. "Based not just on what we've seen but also what we know about white-collar investigations generally, this seems to me like it is just getting started."