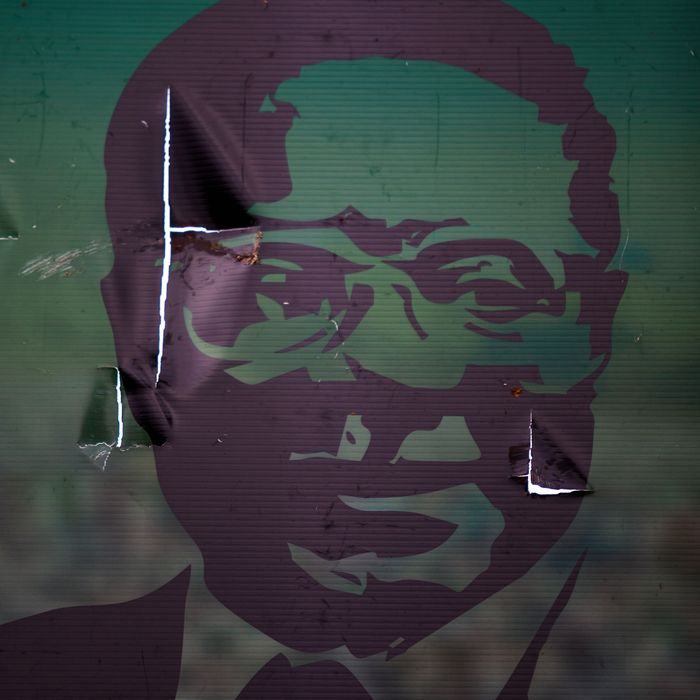 A vandalized image of Mugabe on a billboard in Harare.
Photo: Jekesai Njikizana/AFP/Getty Images
Zimbabwe's 93-year-old dictator, Robert Mugabe, was told to resign or face removal by his own political party on Sunday. Though he had been expected to resign in a televised address on Sunday night, Mugabe ended his remarks without doing so. Earlier in the day, Mugabe was ousted as the leader of his ruling party and told he would face impeachment by the country's parliament if he did not resign within 24 hours. Mugabe, who was placed under house arrest following a military takeover on Wednesday, has run the country since the end of its war for independence in 1980. One way or another, his 37-year rule is now undoubtedly at an end.
The Guardian reports that the governing ZANU-PF party held emergency talks on Sunday and voted to remove Mugabe as its leader and expel his wife, who leads the party's Women's League, for life. Former vice-president Emmerson Mnangagwa was appointed his successor. Mugabe has refused to step down, so far, but the pressure to do so from the military and within his own government has continued to build, and party and military leaders worked, unsuccessfully, to negotiate his resignation over the weekend.
People cheered and danced in ZANU-PF headquarters following the vote to oust Mugabe on Sunday:
On Saturday, thousands of Zimbabweans held a rally opposing Mugabe in the nation's capital, Harare, tearing up pictures of the leader and marching on his office and residence carrying banners. The Sunday Times' Christina Lamb was there, and she reported that the diverse protests "felt like a revolution," and that the fear that Zimbabweans had of Mugabe finally seemed to be gone.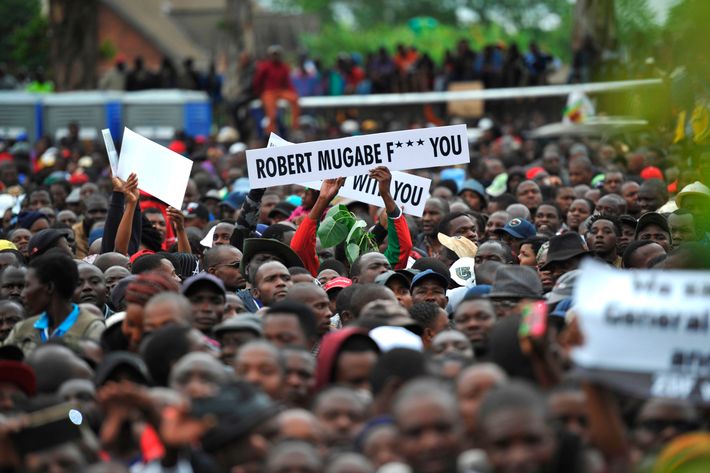 The former vice-president, Mnangagwa, was fired by Mugabe two weeks ago in a power grab meant to establish Mugabe's wife, Grace, as his likely successor. A former intelligence chief and senior official in the ZANU-PF party, Mnangagwa had strong support from within the military, and his firing precipitated the coup, which he and military leaders had already been planning. Mnangagwa is now likely to become the country's next president, but exactly how much of an improvement he will be over Mugabe remains an open question. Mnangagwa was responsible for repressing opposition political parties in Zimbabwe from 2000 to 2008, and his critics have accused him of having his own autocratic tendencies.
This post originally stated that Mugabe was expected to resign on Sunday night, and was updated when he did not.