At least 26 people have been killed and 20 wounded following a mass shooting at a church in a small rural town outside San Antonio, Texas. At about 11:20 a.m. Sunday, a gunman attacked the congregation at First Baptist Church in Sutherland Springs, Texas. The shooter, identified by law-enforcement sources as 26-year-old Devin P. Kelley, then fled in his car. He was later killed, or killed himself, in a neighboring county after being pursued by local residents who chased him following the attack. It is not clear how the shooter died, and his motive for the attack is not yet known.
It was, by far, the deadliest shooting at a place of worship in modern American history, as well as the deadliest mass shooting in modern Texas history. It struck in a town of less than 400 residents.
Below is everything we know so far.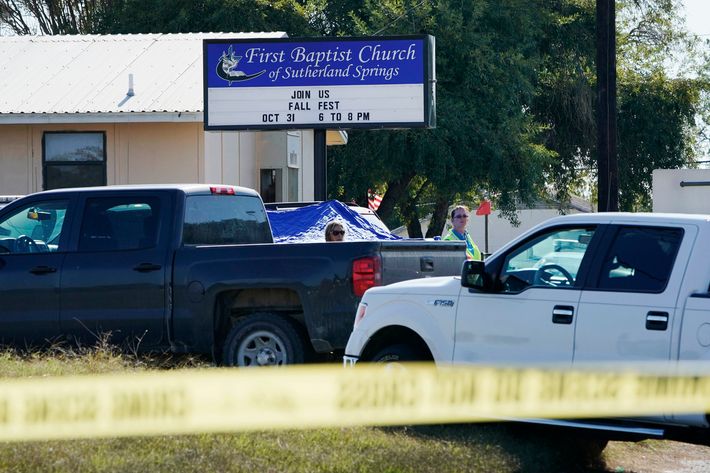 According to Texas law-enforcement officials, Kelley first stopped at a gas station across the highway from the church. Then he drove over to the church and began firing just after 11:20 a.m. Witnesses said he was dressed in black tactical gear and wearing a ballistic vest. He exited his car and proceeded to open fire on two sides of the church, then entered the church and continued shooting inside.
"He was just spraying at the front of the church," witness Kevin Jordan, who was in his yard near the church, told the Washington Post. "He was shooting outside at first, and then he walked to the door and started shooting inside."
Jordan said he ran inside and had his family huddle in the bathroom while they called 911. He said the shooter fired a shot that went through his front window, nearly hitting his two-year-old son. After the shooting stopped, Jordan headed to the church to see if he could help.
"I walked inside and just walked out. I couldn't handle it," he said. "It was bad. A lot of blood and bodies. The pews were knocked over. I'm a medical assistant and medical assisting does not prepare you for this."
After exiting the building, Kelley was confronted by an armed local man. They exchanged gunfire, and Kelley dropped his Ruger AR-15 assault rifle and fled by car. The resident who intervened flagged down another local man who was driving by, and they pursued the shooter at high speed for about five to seven minutes before Kelley apparently lost control and drove off the road.
At that point, he was observed to be motionless, according to an interview the second man gave to KSAT News. Police later arrived and took over the scene. It is still not clear how Kelley died, but it's likely he died either from a gunshot wound received after being confronted by the local resident or from one that was self-inflicted in the car.
Neither of the men who intervened were injured. Officials said they later found multiple weapons in the shooter's car.
The FBI, ATF, and Texas Ranger Division are currently investigating the shooting.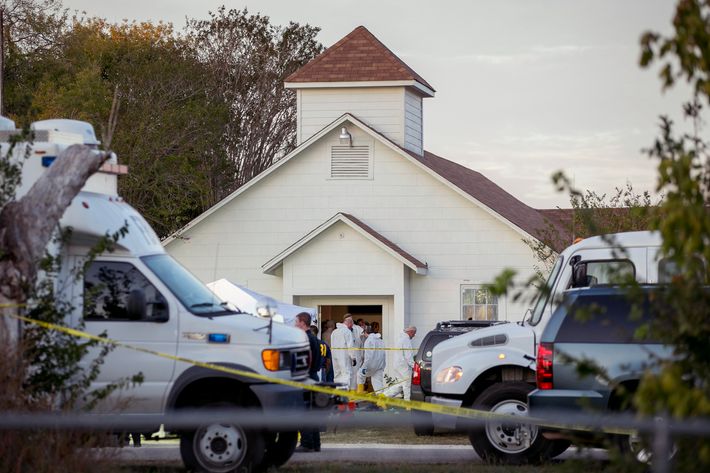 Texas officials announced at a Sunday evening press conference that 26 people were killed in the shooting and another 20 wounded. The victims ranged in age from five to 72 years old. Twenty-three people were killed inside the church, two were killed outside, and one person later died of their injuries after being taken to the hospital. The survivors, many of whom remain hospitalized, sustained injuries of varying severity.
Local residents estimated that around 50 people would likely have been attending the 11:00 a.m. service that was underway at the time of the attack, and officials said that some were able to escape during the shooting.
It seems that at least several children were among the casualties, including a 14-year-old girl — Annabelle Pomeroy, seen above — who was killed in the attack. She was the daughter of First Baptist's pastor, Frank Pomeroy, who was out of town with his wife on Sunday.
Scott Holcombe, 30, told the New York Times that his father, Bryan Holcombe, who had been guest-preaching at the church, was killed, along with his mother, Karla Holcombe, and pregnant sister-in-law, Crystal Holcombe.
"I'm dumbfounded," Holcombe said. "This is unimaginable. My father was a good man, and he loved to preach. He had a good heart."
Sandy Ward, who did not attend services on Sunday due to health problems, said her daughter-in-law and three of her grandchildren were shot. Her 7-year-old granddaughter died. Her 5-year-old grandson was shot four times and was still in surgery on Sunday night.
When the 2000 census was conducted, only 362 people lived in Sutherland Springs. The current death toll is about 7 percent of that population.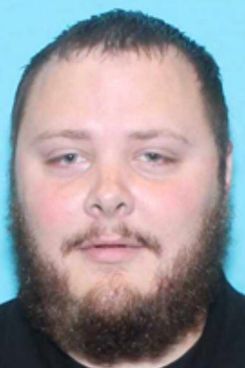 Twenty-six-year-old Devin Kelley was a resident of New Braunfels, a northeast suburb of San Antonio. Police raided his home with bomb-sniffing dogs on Sunday afternoon.
Kelley enlisted in the Air Force in 2010, and was court-martialed in 2012 for assault on his wife and her child. An Air Force spokesperson said he was sentenced to a year in military prison and a reduction in rank. He received a bad-conduct discharge in 2014, which should have prevented him from purchasing a firearm.
Records show Kelley's first wife filed for divorce in 2012. He married Danielle Lee Shields in 2014. Her mother listed a P.O. box in Sutherland Springs as a mailing address.
It seems Kelley also recently showed off an AR-15-style long rifle on his Facebook page, and the Daily Beast has obtained a screenshot of that post, which was apparently published on October 29 with the caption, "She's a bad bitch." He subsequently made the photo his profile's cover image, but it's not yet clear if the weapon in the image is the primary one he used in his attack.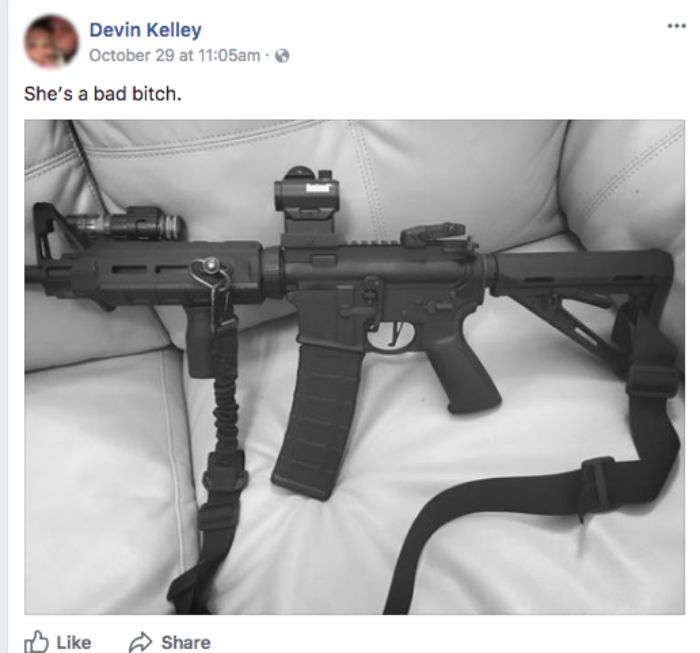 President Trump quickly tweeted about the tragedy from Japan on Sunday afternoon, and offered longer comments to his traveling press pool several hours later.
Numerous other politicians have weighed in with their thoughts as well, and those responses have mostly fallen into two easily predictable categories: "thoughts and prayers" for the victims from those on the right; and alarm and calls for action over America's ongoing gun crisis from those on the left.
Finally, here are some images of the aftermath showing the response from first responders and the Sutherland Springs community.
This post will be updated as new information becomes available.