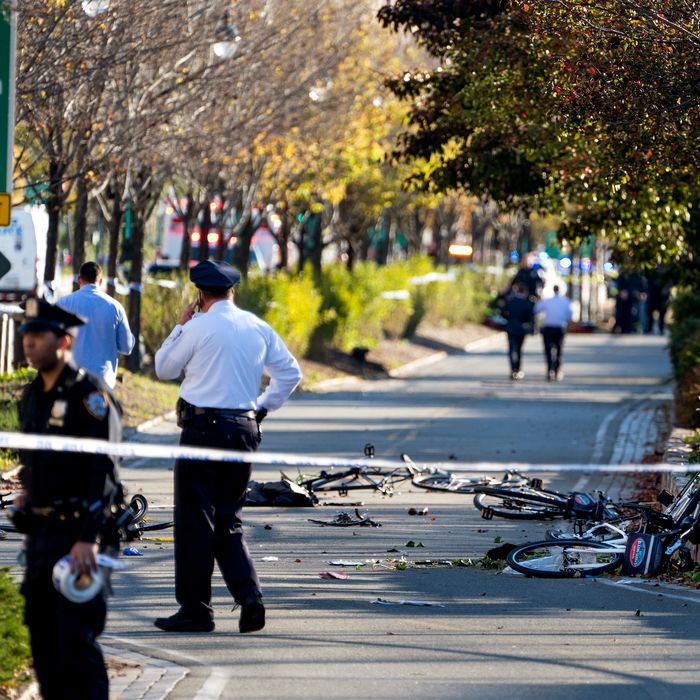 The scene after the attack.
Photo: Craig Ruttle/AP
• A note (or notes) found near the vehicle says the attack was carried out in the name of ISIS, according to several outlets.
• Suspect Sayfullo Habibullaevic Saipov, who was shot by a police officer, underwent surgery and is expected to survive.
• Five of the people killed have been identified as Argentine tourists celebrating their 30-year high-school reunion.
Eight people were killed and 11 were injured in downtown Manhattan on Tuesday afternoon when a driver in a pickup truck deliberately steered his vehicle into a mile-long stretch of bike path. He then jumped from the vehicle and ran up and down the highway, brandishing a pellet gun and a paintball gun. He was shot in the abdomen by a police officer and taken into custody.
The suspect has been identified as 29-year-old Sayfullo Habibullaevic Saipov. He is an Uzbek national who came to the U.S. in 2010. After living in Florida and working as a truck driver for several years, he recently moved to New Jersey with his wife and children and began driving for Uber. He underwent surgery and is expected to survive.
Saipov was heard yelling, "Allahu Akbar!" before he was shot. Several outlets reported that a note found at the scene said the attack was carried out in the name of ISIS. According to CNN, law enforcement sources found one note written in English inside the vehicle. The New York Times reported that investigators found several notes handwritten in Arabic near the truck. Officials said they have yet to find evidence of direct ties between Saipov and ISIS, so they're treating it as an attack only inspired by the terror group.
"This was an act of terror, and a particularly cowardly act of terror, aimed at innocent civilians, aimed at people going about their lives who had no idea what was about to hit them," New York mayor Bill de Blasio said at a press conference.
Governor Andrew Cuomo said that the suspect acted alone, and there is "no evidence to suggest a wider plot or a wider scheme." A joint investigation by the FBI and New York Police Department is under way.
Around 3:05 p.m., Saipov entered a stretch of bike path near Houston Street, adjacent to the West Side Highway, and drove for about 20 blocks. He was driving a flatbed pickup truck rented from Home Depot. The New York Daily News reported that a witness "watched in disbelief as the driver of the speeding truck ran down a pair of Citi Bike riders about 50 feet apart, catching both from behind on the busy bike path alongside the Hudson River."
Saipov crashed into a school bus at Chambers Street, injuring two adults and two children on the bus. He then exited the truck, brandishing a paintball gun and a pellet gun. Saipov was confronted by NYPD Officer Ryan Nash, who was responding to a call at nearby Stuyvesant High School. When Saipov refused an order to drop his weapons, Nash shot him in the stomach. Nash was treated for tinnitus after the incident.
A video apparently taken from the scene showed several bikers on the ground after being hit by the truck.
"What happened was there was a car crash … he came out of one of the cars. He had two guns. We thought it was a Halloween thing. He started running around the highway. There was another guy in a green shirt that was chasing him around," a student at Stuyvesant High School told the New York Post.
Another high-schooler caught the aftermath of the attack on video:
Olivia Raykhman, 14, described efforts to rescue children from the wrecked school bus to the New York Times. "They were sawing through a school bus window. They broke all of the windows and were trying to pull kids out. There was a man covering a child with a blanket. There was one kid who was stuck," she said.
New York's Madison Mills was at the scene, and interviewed an eyewitness who described the incident:
Officials said six people were declared dead at the scene, and two died later at the hospital. Eleven other people were taken to the hospital with serious, but non-life-threatening injuries.
Five of the people killed were Argentine tourists celebrating their 30-year high-school reunion. Argentine authorities identified them as Hernán Mendoza, Diego Angelini, Alejandro Pagnucco, Ariel Erlij, and Hernán Ferruchi. A sixth member of the group, Martín Ludovico Marro, was wounded.
According to the Argentine newspaper La Nacion, the friends graduated from a polytechnic school in 1987, and arrived in New York several days ago with five other people.
"The were out cycling in downtown Manhattan," Mateo Estrémé, consul general of Argentina to the United Nations, told the New York Post. "We are trying to figure out how to go on — especially the families … [They] are completely lost about, well, being very far from their relatives. They don't know what to do."
Belgian officials said one person who was killed and three who were injured were from Belgium.
President Trump was briefed on the matter, and tweeted multiple times in response:
As Politico notes, it's unclear what Trump was referring to. In August, the Trump administration expanded requirements for some green-card applicants, but federal judges have blocked three iterations of his travel ban from fully taking effect. People from Uzbekistan were not banned under any version of the order.
The incident was similar to vehicle attacks that have taken place in France, Britain, Germany, Sweden, and Spain in recent years.
"This certainly bears all the hallmarks of an ISIS-inspired or al-Qaeda-inspired attack," said Representative Adam Schiff, the ranking Democrat on the House Intelligence Committee, who was briefed on the attack by the FBI. "We have to expect that as the capital of the caliphate has now fallen, there are going to be increasing efforts to show that they remain dangerous and lethal, and to expand the virtual caliphate."
While officials said they do not believe there is any further threat to the city, there will be an increased police presence in the coming days.
Additional officers were deployed to police Greenwich Village's annual Halloween parade on Tuesday night. "I'm not going to let it scare me," Cathryn Strobl, a 23-year-old New Yorker, told the AP as she waited for the parade to start. "You can't let it stop you from living your life."
This post will be updated as more information becomes available.