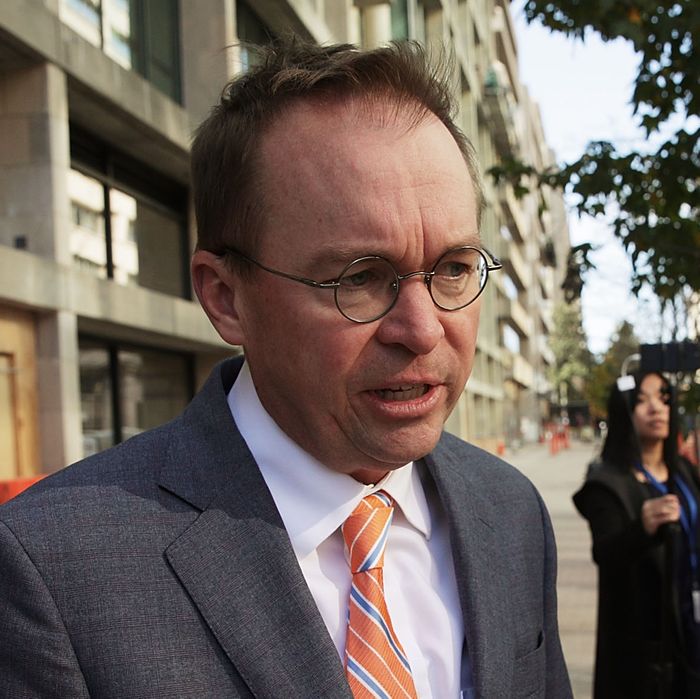 Mick Mulvaney: OMB director by day, CFPB acting director also by day.
Photo: Alex Wong/Getty Images
When the Trump administration's actions are challenged in court, it's not uncommon to see judges put a stop to its behavior. President Trump tends to respond with troubling attacks on the judicial branch, such as dismissing the decision of the "so-called judge," or declaring that he wants to break up the Ninth Circuit Court of Appeals.
But on Tuesday, Trump finally found a federal judge he likes:
U.S. District Court judge Timothy Kelly happens to be a Trump appointee, but he's also a former federal prosecutor and counsel to Senate Judiciary Committee chair Chuck Grassley, not a ghost hunter.
Kelly ruled on Tuesday that the Trump administration has a right to appoint budget director Mick Mulvaney as the temporary head of the Consumer Financial Protection Bureau. Leandra English — who was named the bureau's deputy director just before director Richard Cordray stepped down earlier this month — had filed a lawsuit, saying that under the 2010 Dodd-Frank Act, which established the bureau, she should be director. Lawyers for Trump and Mulvaney argued that under the 1998 Federal Vacancies Reform Act, the president has the right to name Cordray's replacement.
"Denying the president's authority to appoint Mr. Mulvaney raises significant constitutional questions," Kelly said. "Nothing in the statutes prevents Mr. Mulvaney from holding both of these positions," referring to Mulvaney's existing job at the Office of Management and Budget.
While English's lawyer, Deepak Gupta, argued that Mulvaney could not lead an independent agency while serving the president, the budget director insisted that he would "be as independent from Donald Trump in this role" as Cordray had been from Obama. To prove this point, he created a new Twitter account and sent out a photo of himself working at the CFPB.
Kelly acknowledged that the case raised constitutional issues, and Gupta suggested they would continue pursuing the suit. "There needs to be an answer, and there needs to be a final answer. There needs to be a resolution of this cloud of impropriety hanging over the bureau," Gupta said. But Kelly's decision to turn down English's request for a temporary restraining order should clear the way for Mulvaney to begin revamping the agency.
Both sides acknowledge that Trump has the right to appoint a new CFPB director, but Democrats and consumer groups hoped to force Trump to appoint a permanent director quickly. Now it's possible Mulvaney, who once called the agency a "sick, sad joke," will lead it for months.
"I do think there is a difference between Mulvaney, and the actions he would try to take as acting director, and a permanent, Senate-confirmed nominee," Lisa Donner, executive director of Americans for Financial Reform, told the Washington Post. "Some of the Trump nominees have been rejected."
As acting director, Mulvaney has wide latitude to rein in the agency Republicans have attacked since it was founded six years ago. While Mulvaney said he doesn't plan to "burn the place down," he and Trump's eventual pick for director will have the power to cut off funding for the agency and revisit regulations. For instance, while the CFPB has finalized regulations to curtail the billions of dollars in fees collected by payday lenders, the new director could alter or eliminate those rules before they go into effect in 2019.
"He could end investigations, he could take proposed settlements that involved penalties for violators and change them to slaps on the wrist, and legalize what the bureau thought was unfair conduct," Ed Mierzwinski, a senior fellow for the government watchdog U.S. PIRG, told Politico.
Many of these steps to undermine the agency — which has helped nearly 30 million Americans collect about $12 billion in refunds and canceled debts — would face more legal challenges.
"There are some guardrails around how much damage they can do; rules that were adopted through a lengthy process, with data and studies and findings, can't just be rolled back," said Lauren Saunders, associate director of the National Consumer Law Center. "If they don't have the evidence to back up what they're trying to do, they'll be challenged in court."
Ultimately, the CFPB's fate may be determined by Trump's fraught relationship with the judiciary branch.