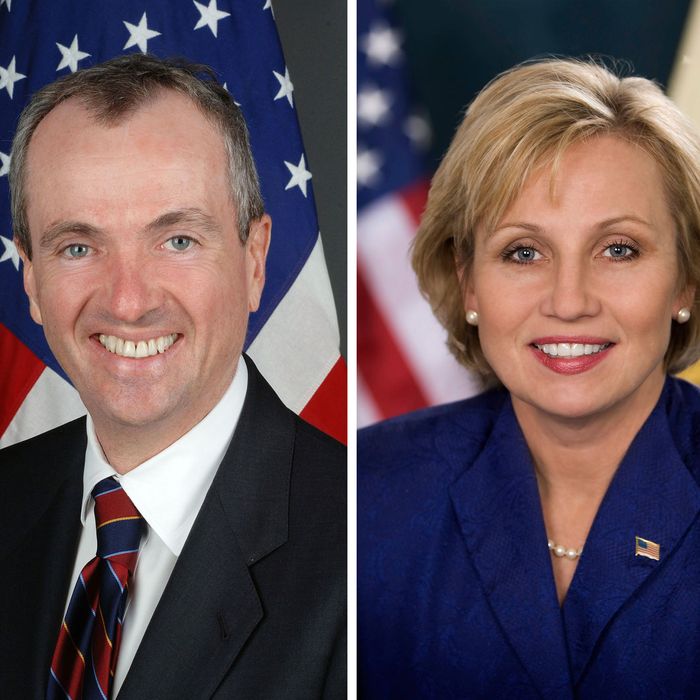 Democrat Phil Murphy is heavily favored over Republican Kim Guadagno in the Garden State governor's race.
Photo: US Department of State; New Jersey Governor's Office
Compared to the thriller in Virginia, the other off-year gubernatorial race this year, the contest to choose a successor for New Jersey governor Chris Christie, has been something of a snoozer. The state leans blue, Donald Trump is unpopular there, Christie is even more unpopular there, and the Democratic nominee has more money and a better organization. All of these factors have combined to make former U.S. ambassador to Germany Phil Murphy a prohibitive favorite over Christie's lieutenant governor Kim Guadagno. The race has tightened a bit since the June primaries, but Guadagno has trailed by double digits in every public poll; Murphy's lead in the RealClearPolitics polling average is 14.4 percent.
The Republican has tried the old familiar New Jersey tactic of railing against high property taxes, and the newfangled Trumpian emphasis on sanctuary cities and immigrant crime. Nothing seems to be working, perhaps because her two-time running mate Chris Christie and his Marianas Trench–deep approval rating (15-80!) are tied around her ankle like an anchor. Trump, whom Guadagno never mentions, had a job-approval ratio of 33-65 in the same Quinnipiac poll.
And money has been far from an equalizer for Guadagno, either, even though she and Murphy are campaigning under the same spending limitations after accepting public matching funds. Murphy is hitting the $9.3 million spending cap easily, while Guadagno has spent less than $4 million, and that's not counting the $21 million the former Goldman Sachs executive spent during the primary season. Expenditures from outside groups, which are not capped, also favor the Democrats.
On the interlocking issues of public pension liabilities and taxes, which have dominated New Jersey politics for years, Murphy is promoting a tax increase on high-earners and the legalization (and taxation) of marijuana, while Guadagno favors reduced health-care benefits for new state employees. The Republican also favors a cap on the percentage of income homeowners should pay in property taxes, and claims she can cover the revenue losses by reducing government waste.
Murphy's steady lead has sapped the race of excitement. Turnout is expected to fall short of the record-low 40 percent that turned out four years ago to give Christie a second term by a 60-38 margin. A lot of voters regret that decision. Kim Guadagno is paying the price.
The entire New Jersey legislature is up for reelection on November 7 as well. Democrats hold an unassailable 52-28 margin in the General Assembly (the lower legislative chamber, and a narrower, but probably safe, 24-16 margin in the Senate. New Jersey is very likely to become the seventh state in which Democrats enjoy a "trifecta" of controlling the executive branch and both legislative chambers.