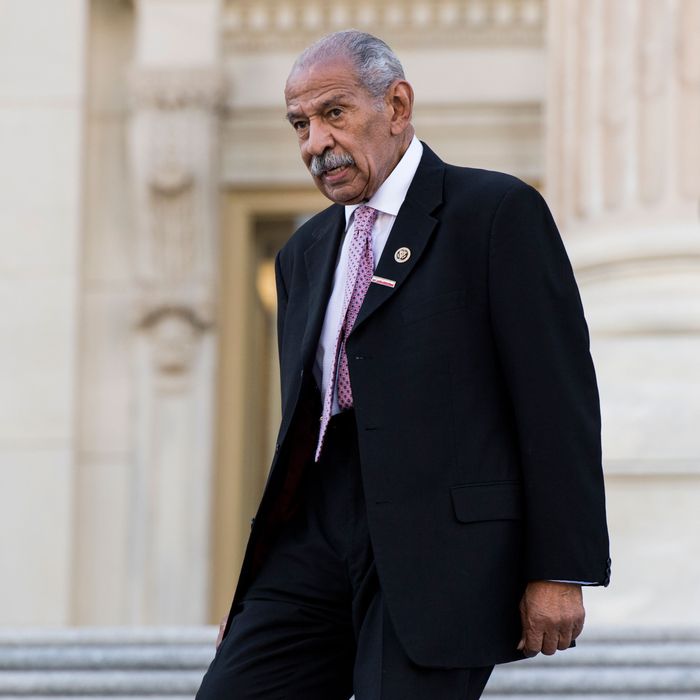 John Conyers.
Photo: Bill Clark/CQ-Roll Call,Inc.
Days after House Minority Leader Nancy Pelosi twisted herself in knots to avoid calling for the resignation of Representative John Conyers, she's reversed course. On Thursday, Pelosi told reporters that Conyers, who is accused of sexual misconduct and abuses of power, "should resign."
The allegations against Conyers are "serious, disappointing, and very credible," Pelosi said. "It's very sad."
She added: "As Dean, Congressman Conyers has served our Congress for more than five decades and shaped some of the most consequential legislation of the last half century. However, zero tolerance means consequences, for everyone, no matter how great the legacy. It's no license to harass or discriminate. In fact it makes it even more disappointing."
Conyers's lawyer was defiant in response to Pelosi's comments, telling a CNN reporter, "She doesn't elect the Congressman and it won't be up to her." The lawyer added that Pelosi will need to explain the "discernible difference" between Conyers and Senator Al Franken, who has also been accused of sexual misconduct.
Pelosi's statement was followed by similar calls for Conyers to resign from other high-ranking Democrats, including Rep. Jim Clyburn and Rep. Steny Hoyer, the House Whip. In a statement, Hoyer said, "As I have said, the allegations against Rep. Conyers are serious and credible. As we continue to hear more, I think it is appropriate for him to resign."
Pelosi has reportedly been working behind the scenes to try to usher Conyers out of Congress, where he is the longest-serving member, but has until Thursday refrained from public calls for him to step down. The change came hours after Marion Brown, a former Conyers staffer, detailed the 88-year-old's unwanted sexual conduct toward her.
Brown, who anonymously spoke to BuzzFeed for a piece published last week, appeared on Today Thursday in violation of a nondisclosure agreement. "I am taking a risk, and the reason I'm taking the risk, I want to be a voice," she said. "I want [my granddaughter] to not have to endure sexism and gender inequality. I felt it was worth the risk to stand up for all the women in the workforce that are voiceless."
Brown detailed Conyers's persistent harassment, which included him, she said, "violating my body, propositioning me, inviting me to hotels with the guise of discussing business and propositioning for sex."
Not long after Brown's appearance on Today, it was reported that Conyers had been hospitalized in Detroit. "The congressman's health is not what it should be and lot of that is directly attributable to this media assault," an aide told CNN.