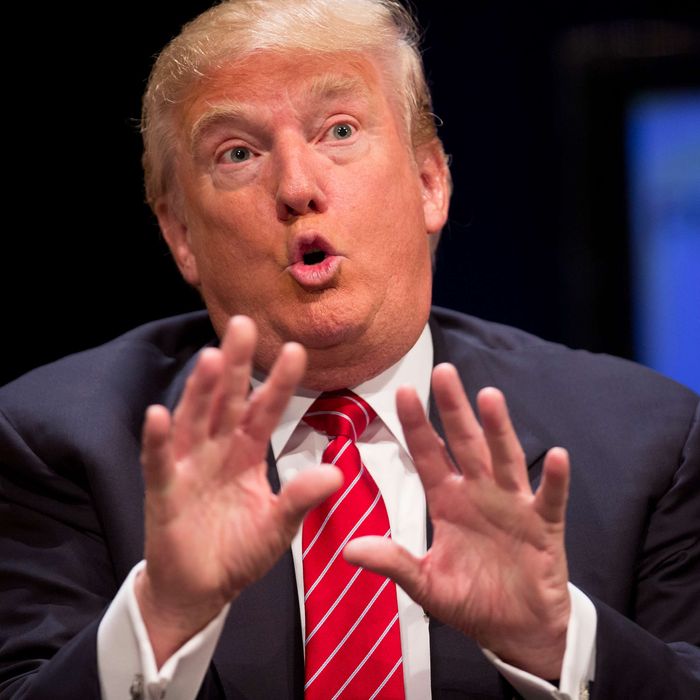 Donald Trump.
Photo: Daniel Acker/Bloomberg via Getty Images
The prevailing interpretation of Donald Trump, shared by all his enemies and many of his allies, is that he is a con man. It is a theory that explains both his career in business and politics, and has carried through his many reversals of position and acts of fraud against customers and contractors. It remains quite plausible. But new reporting has opened up a second possibility: The president has lost all touch with reality.
The Washington Post and New York Times have accounts from insiders suggesting Trump habitually insists upon the impossible in private. He does not merely tell lies in order to gull the public or to manipulate allies. He tells lies in private that he has no reason to tell. He still questions the authenticity of Barack Obama's birthplace, despite the birth certificate. He insists voter fraud may have denied him a popular-vote triumph. He tells people Robert Mueller will wrap up his investigation, with a total vindication of the president, by the end of the year.
He questions whether the Access Hollywood tape, on which he was recorded boasting of sexual assault, is even him. (Both the Post and the Times report Trump repeatedly has denied the validity of the tape in private, "stunning his advisers," as the Times puts it.)
It is of course entirely possible that Trump is lying to everybody, including his own staff. But the lies in these articles do not always fit into any pattern of rational self-aggrandizement. Trump tells senators or his aides the Access Hollywood tape is not him, but they don't believe him. He has no reason to bring up the birther fabrication in private.
His apparent belief that Mueller will complete his sprawling investigation by the end of the year is not only pointless but self-defeating — rather than prepare allies for a long defense, he is preparing them for a fantastical scenario. (It is also further evidence that, when Mueller fails to vindicate him by the new year, Trump will lash out wildly, firing him, Jeff Sessions, or others.)
If Trump actually has the ability to convince himself of his own lies, it would suggest a possibility far more dangerous than even his critics have previously assumed. He might be in the grip of a mental-health issue, or at least one more serious than mere sociopathy. And the mutterings that he might need to be removed from office through the 25th Amendment could grow more serious than many of us have expected.