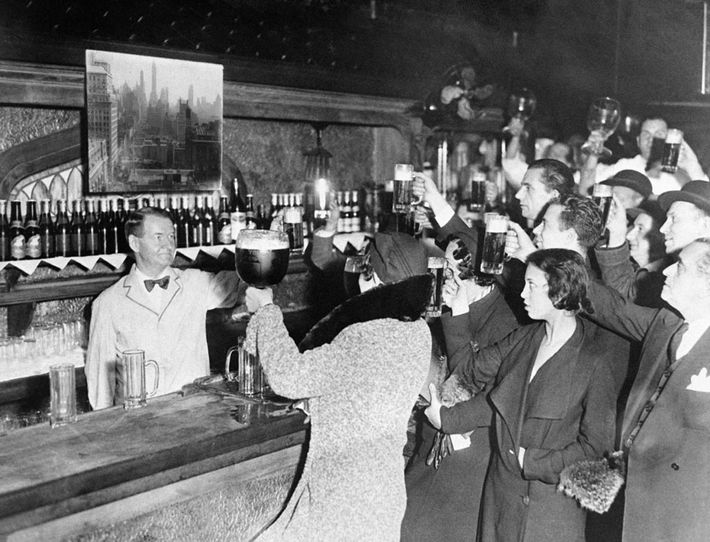 On December 5, 1933, Prohibition was officially repealed to the delight of imbibers. That's not to say the 13 years that alcohol was banned in the U.S. were dry by any means. Wiley city dwellers in particular became well-versed in sipping behind closed doors, in secret or lesser-known spaces often only accessible by password or through covert entrances. These speakeasies and clandestine night clubs flourished, and even laid the groundwork for city nightlife as we know it. By 1930, Police Commissioner Grover Whalen estimated that there were around 32,000 speakeasies in New York. Although many of these were true hole-in-the-walls or even "clip joints" that swindled their patrons, some were a notoriously good time.
To celebrate the 84th anniversary of Prohibition's end, Budweiser has released 1933 Repeal Reserve Amber Lager, a beer inspired by a recipe from Anheuser-Busch co-founder Adolphus Busch. The brew, which saw its last iteration in 1920 St. Louis before production was halted, comes packaged in vintage-inspired stubby bottles. It has an ABV of 6.1 percent, over a percentage higher than today's Bud, to boot.
Click through our map to discover some of Manhattan's most most notorious Prohibition-era clubs and speakeasies – some of which you can still visit today. May we suggest cracking open a cold one while you browse?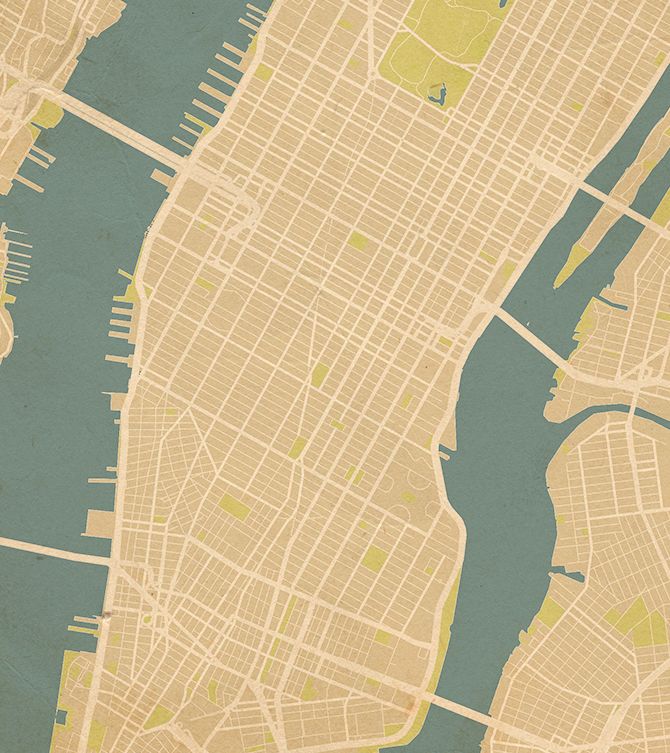 1
Chumley's
(86 Bedford St.)
This 1922-founded speakeasy catered to the literary crowd. F. Scott Fitzgerald, Ernest Hemingway, and Willa Cather imbibed here, among others. You can still visit Chumley's – it reopened after a nearly 10-year hiatus in 2016 – and the literary game is still strong. During the renovation, owners called upon a historian to curate book jackets and writer portraits to adorn the space. While the vibes are distinctly roaring '20s and the beverages are similarly inspired by the time period, sadly, the space is no longer accessible via the back alley door that Prohibition-era patrons often used.
2
El Fey Club (123 W. 45th St.)
Rumrunner Larry Fay's 1922-founded El Fey Club is one of several establishments that legendary nightlife personality Mary Louise Cecilia "Texas" Guinan presided over. In fact, the former silent film actress got her speakeasy start as hostess at the El Fay. Texas Guinan's over-the-top attitude was a huge draw – in fact, she became known as "Queen of the Night Clubs" – her token greeting being, "Hello, suckers!" At one point, Guinan and Fay cashed in about $700,000 in a 10-month span, which would be equivalent to around $6.4 million today. Guinan moved on from El Fey to launch her own clubs, and Fay met his end in 1932 -- he was shot by the doorman of his Casa Blanca Club after an announcement he'd be cutting wages.
3
300 Club
(151 W. 54th St.)
Famed emcee of the El Fey Club Texas Guinan went on to start her own illicit Prohibition-era ventures. The 300 Club was her first such imbibing establishment, and it would repeatedly be shut down and relaunch, often under different names and in different locations (albeit in the general vicinity of the West 50s). The Argonaut, Salon Royale, and Club Intime were just a few of "The Queen of the Night Clubs" later enterprises.
4
21 Club (21 W. 52nd St.)
52nd Street was a hotbed for speakeasies during Prohibition -- some 38, to be precise. Perhaps the most storied of these was the 21 Club which opened in 1930 and still operates today. Founders Jack Kriendler and Charlie Berns operated other illegal watering holes around the city prior to 1930, but the 21 Club was their most sophisticated venture. The establishment was cleverly designed to fool the authorities, complete with a disappearing revolving bar, false stairways, hidden doors and chutes to transport bottles, and a secret wine cellar (technically housed in the neighboring building in case of raids). Also notable on 52nd Street were the Wing Club, a locale for pilots and Leon-Eddie's, a converted house, once home to Bernard Baruch, that seated up to 30.
5
The Back of Ratner's
(Norfolk and Delancey)
The Back Room, as it's called today, serves up beer in paper bags and cocktails in teacups to pay homage to its speakeasy roots. It was simply known as "The Back of Ratner's" during Prohibition; Ratner's was a kosher-dairy restaurant on Delancey that also served illegal substances in the back. The space was equipped with several lesser-known exits and entrance options, which made it the perfect gathering place for underworld bosses. In fact, Bugsy Siegel, Lucky Luciano, and Meyer Lansky were known to hold meetings here. The location was conveniently close to a garage under the Williamsburg Bridge where Lansky would rent cars and trucks to bootleggers. Film and theater actors would also hang at this speakeasy, making for a unique mix of famous and infamous clientele.
6
Landmark Tavern (626 11th Avenue)
When Prohibition hit, this 1868-founded, family-owned saloon pivoted, opening a third-floor speakeasy. At the time the Landmark Tavern was founded, 12th Avenue was nonexistent -- the building faced the banks of the Hudson River and largely catered to dockworkers. It's still in operation today, so consider swinging by for a cold one.
7
Ear Inn (326 Spring St.)
James Brown, an African-American Revolutionary War hero and once-aide to Washington, built the townhouse that would later become Ear Inn in the 1770s (exact details are fuzzy, however that's when the woodwork dates back to). Brown opened a tobacco shop in the space in 1817 -- at the time, it was just feet away from the Hudson, although today the shoreline lies about a block and a half west. In the mid-late 1800s, the building was purchased by Irish immigrant Thomas Cloke who turned it into a saloon, brewing his own wares in the backyard. When Prohibition hit, the establishment became a speakeasy, brothel, boarding house, and smuggler's HQ all-in-one. You can still grab a pint at Ear Inn today, which (admittedly to some debate) claims to be the city's oldest bar continuously serving alcohol.
8
Club Durant (58th St., near Broadway)
Jimmy Durante's speakeasy Club Durant (legend goes the sign-maker forgot the "e") opened doors in 1923. Business was tepid at best – until they focused on the entertainment. "Cakewalking singer" Eddie Jackson (a founding partner in the business), tap dancer Lou Clayton (who would also share a stake), plus Durante himself made for a rambunctious and increasingly popular act. Unfortunately, their fourth partner was stealing from the business. When the trio discovered the shady dealings, they abandoned ship to open the Parody Club. It was only up and up from there for the three entertainer/entrepreneurs – they became vaudeville and Broadway successes.
9
Beatrice Inn, 285 W. 12th St.
This well-loved steakhouse has seen many iterations over the decades. Prior to current ownership, it was a chophouse; before that, it was a bar for the social set; and even before that, it was an Italian joint. However, the 1924-founded establishment at 285 W. 12th Street was a speakeasy back in the day – and alleged haunt for F. Scott and Zelda Fitzgerald to boot. The back door leading to an alleyway was likely an easy escape route for raids.
This is paid content produced for an advertiser by New York Brand Studio. The editorial staff of Daily Intelligencer did not play a role in its creation.