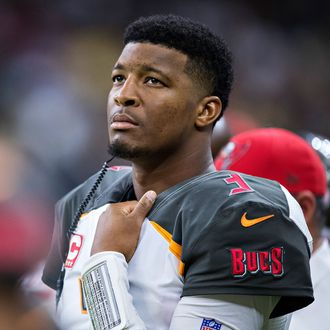 Jameis Winston.
Photo: Wesley Hitt/Getty Images
Tampa Bay Buccaneers quarterback Jameis Winston — who last year settled a civil lawsuit with a woman who accused him of raping her when they were in college — is being investigated by the NFL following allegations that he groped an Uber driver back in 2016. During a ride in Arizona, Winston's driver, a woman named Kate, says he "behaved poorly" and yelled homophobic things at people on the street, BuzzFeed News reports. He asked Kate to take him and the other riders to get food. While they were sitting in a drive-through, Kate says Winston, who was sitting in the front seat, grabbed her crotch for several seconds and only removed his hand when she said, "What's up with that?"
"I mean he's an NFL quarterback and I'm five-foot-six. I'm not prepared for that. So I completely froze," Kate, who has asked not to be named, told BuzzFeed News. "He sexually assaulted me, and I have every right to tell the damn truth about it." Kate reported the incident in detail to Uber who promised her she and Winston wouldn't be matched again. The company ultimately decided to ban Winston from Uber.
"The League has been informed that you may have been the victim of such a violation perpetrated by Tampa Bay Buccaneers player Jameis Winston. The league takes allegations of this nature very seriously and has opened an investigation into this matter," an NFL lawyer wrote in a letter sent to Kate and obtained by BuzzFeed News.