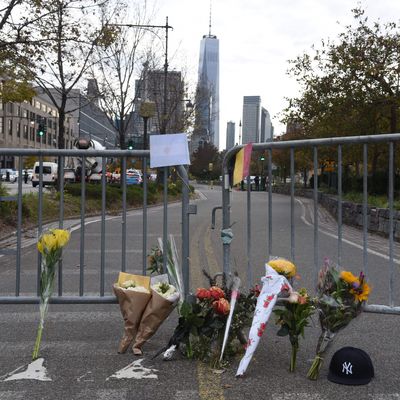 A memorial near the site of Tuesday's terror attack on November 1, 2017.
Photo: TIMOTHY A. CLARY/AFP/Getty Images
Federal prosecutors filed terrorism charges against the suspect in the Manhattan truck attack on Wednesday, alleging that he was inspired by ISIS's online propaganda and spent months planning the attack, selecting Halloween because he thought the streets would be busier and "wanted to kill as many people as he could." The criminal complaint said he decided to use a rented truck as a weapon "to inflict maximum damage against civilians."
Sayfullo Saipov, who was shot by NYPD officer Ryan Nash during the attack, made his first court appearance on Wednesday evening in a wheelchair. His hands and feet were chained, and five guards stood behind him. The Uzbek immigrant followed the hearing through a Russian interpreter, but responded in English when asked if he understood the proceeding, saying, "Yes, ma'am."
Saipov was charged with providing material support to a terrorist group and committing violence and destruction of motor vehicles, resulting in death. Eight people were killed in the attack and a dozen were injured. The vehicle charge raises the possibility that he will face the death penalty. Saipov did not enter a plea and was ordered held without bail.
According to the criminal complaint, Saipov began planning the attack a year ago, and had rented a truck like the one used in the attack to "practice making turns." Saipov mowed down bikers and pedestrians along a one-mile stretch of the West Side Highway, then exited the vehicle after hitting a school bus. Prosecutors say he had intended to head all the way to the Brooklyn Bridge, killing many more people along the way.
A note found at the scene read in Arabic, "No god but god and Mohamed is his prophet," and "Islamic Supplication. It will endure," referring to ISIS.
Investigators found 90 videos and 3,800 images, many which appeared to be ISIS propaganda, on his cell phone. He had also conducted online searches for "Halloween in NYC" and "truck rentals." Saipov worked as a truck driver, and for the ride-sharing companies Uber and Lyft in recent years. ISIS has also called for its followers around the world to use vehicles to kill civilians.
"He appears to have followed almost exactly to a T, the instructions that ISIS has put out on its social-media channels to its followers," New York deputy police commissioner John Miller said at a press conference.
Prosecutors said Saipov considered displaying ISIS flags on the truck during the attack, but decided it would attract too much attention. According to court papers, Saipov asked to display an ISIS flag in his hospital room, and indicated that he's proud of what he did.
After the hearing, Saipov's court-appointed lawyer said he hoped people would let "the judicial process play out," adding, "I promise you that how we treat Mr. Saipov in this judicial process will say a lot more about us than it will say about him."
Earlier in the day, President Trump called the U.S. justice system a "joke" and said he'd consider sending Saipov to Guantanamo Bay. He tweeted late on Wednesday night:
Trump has been a frequent proponent of the death penalty, dating back to at least 1989, when he took out an ad calling for the execution of the "Central Park Five," five young men who were later cleared by DNA evidence.
Presidents usually don't weigh in on pending criminal cases, as it gives defense attorneys an opportunity to argue that their client was unable to obtain a fair trial — yet Trump has done so repeatedly. Army Sergeant Bowe Bergdahl's attorneys recently used this strategy after Trump said on multiple occasions that he should be executed for desertion. The military judge refused to dismiss the case, but said "I will consider the president's comments as mitigation evidence as I arrive at an appropriate sentence."