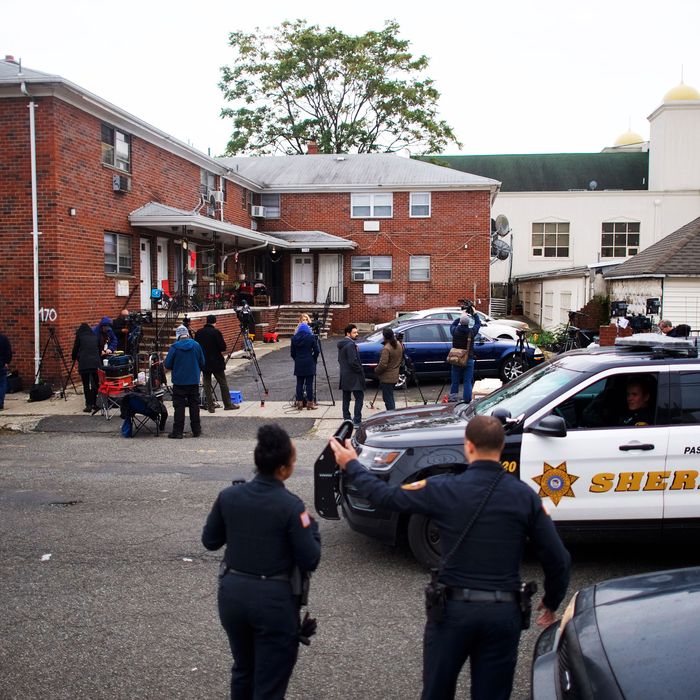 Police outside Sayfullo Saipov's home.
Photo: Mark Makela/Getty Images
The 29-year-old man from Uzbekistan who killed eight people and injured 11 more after driving a truck down a bike path in lower Manhattan Tuesday had been planning the attack "for a number of weeks," police said Wednesday. New York Deputy Police Commissioner John Miller would not go into further detail, only telling reporters that the movements of Sayfullo Saipov will be reconstructed "day-by-day going backwards."
The New York Post, meanwhile, says Saipov drove into the city several times on October 28, and police are looking into whether he was conducting a "dry run" of his October 31 attack.
One thing Miller would confirm is that Saipov "did this in the name of ISIS." A note found on the scene indicated as much. "The gist of the note was that the Islamic State would endure forever," Miller said.
The style of attack was also straight out of the ISIS playbook. "He appears to have followed almost exactly to a T, the instructions that ISIS has put out on its social-media channels to its followers," Miller said.
Specifically, Saipov looks to have heeded a call made last November in the ISIS magazine Rumiyah, which encouraged jihadists in the West to run people down in trucks, "smashing their bodies with the vehicle's strong outer frame while advancing forward — crushing their heads, torsos, and limbs under the vehicle's wheels and chassis — and leaving behind a trail of carnage." It also suggested they leave a note behind declaring their allegiance to the group.
Miller added that Saipov was interviewed at Bellevue Hospital where he was taken after an officer shot him to end the attack. Though he declined to go into details about what Saipov said, reports indicate that he was in a celebratory mood.
"He's talking. He's laughing. He's very happy with what he did," the Daily News heard from someone who spoke to a hospital staffer. "He feels accomplished."
While Saipov was never the target himself of FBI or NYPD investigations, he was linked to people who were, Miller said. "It appears he will have some connectivity to some individuals who were subjects of an investigation though he himself was not," he said.
Still, Saipov was not on the government's terrorist watch list, CNN reports.
Government officials may not have seen Saipov's attacks coming, but some people who knew him did. "I used to tell him, 'Hey, you are too much emotional,'" a preacher at Saipov's former mosque in Florida told the Times. "'Read books more. Learn your religion first.' He did not learn religion properly. That's the main disease in the Muslim community."
Mirrakhmat Muminov, who knew Saipov when he lived in Ohio, described him in an interview with the Times as someone who failed to live as a strict Muslim and a man with "monsters inside."