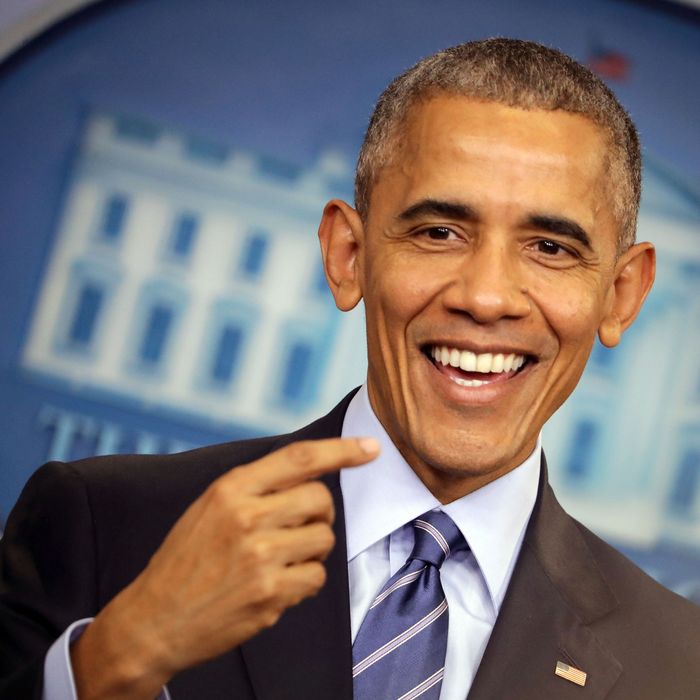 Still got it.
Photo: Chip Somodevilla/Getty Images
If you strike Obamacare down, it will become more powerful than you can possibly imagine.
That, so far, is the lesson for the Trump administration, which has done just about everything in its power to weaken, undermine, and subvert the Affordable Care Act — and now it must contend with the reality that Americans are not only voting to expand the law but also racing to sign up for it in record numbers.
A government report from last week showed that 601,462 people had enrolled in the Affordable Care Act's individual marketplaces during the first four days of open enrollment, up 79 percent from the same period a year ago. Twenty-three percent of those customers are new to the marketplace.
It's still early in the sign-up period — which, thanks to the Trump administration, is only half the length of last year's — and there's ample reason to be cautious that the final enrollment statistics won't look so rosy. Still, the numbers are remarkable considering the lengths the Trump administration has gone to in order to dissuade Americans from President Obama's signature law. Besides cutting the enrollment period, the Trump administration has eviscerated outreach funding for both advertising and in-person "navigators," and has performed suspiciously timed website maintenance.
The administration's anti-Obamacare efforts go well beyond the sign-up process. In October, President Trump announced he would cut off key subsidy payments to insurance companies, a decision designed to boost customers' premiums — though, perversely, it has made some people's plans cheaper. He also announced that companies would now be able to forgo birth-control coverage if they had a moral objection to doing so, rolling back an important Obamacare mandate.
President Trump has been straightforward about his sabotage, claiming that Democrats will "own" the premium increases he has already caused, and insisting at every turn that the law is collapsing under its own weight. And the rest of his administration has been singing the same propagandistic tune. In perhaps the most galling example of the administration's zealotry on the issue, the Health and Human Services Department used taxpayer money to run ads opposing the law it's supposed to carry out.
"We're making sure that people are aware of their choices and their options. But the reality is Obamacare is not working," said Seema Verma, the head of the Centers for Medicare and Medicaid Services, last month.
But someone forgot to tell the voters. While Obamacare's roiling individual marketplaces get the most media attention, Medicaid expansion is the component of the law that has brought health insurance to the most Americans. And last week, Maine became the 33rd state to expand the program — and the first via referendum — in a landslide vote that served as a rebuke to its virulently anti-Obamacare governor. That result has encouraged Medicaid-expansion advocates in redder states like Utah and Idaho, who hope to put the issue to voters next year.
Judging by public-opinion polls, they'll have a good chance of succeeding. Republicans' repeated, hamfisted efforts to repeal Obamacare — which have ended, for the time being at least, in humiliating failure — accomplished what President Obama never could: making the law popular. Polling shows that a majority of Americans now favor Obamacare, an extraordinary turnaround after years of public rejection. Voters are now fully aware that President Trump's plan to offer "great health care" to all Americans was a sham, and any future attempts to fully dismantle the law will face fierce opposition.
The Trump administration is nowhere near done with its anti-Obamacare agenda. Verma announced last week that she would be open to states rewriting their Medicaid-expansion laws to include work requirements, a provision the Obama administration had blocked. President Trump and other Republicans are still hoping to repeal, or at least weaken, the law's individual mandate, a move that would deal a significant blow to Obamacare's structure. The individual marketplaces, so neglected by the administration, also remain trouble spots in some states. The uninsured rate recently ticked up for the first time in years, likely in part because of Trump's negligence strategy.
And yet, all things considered, a year after President Trump's election, the law that has undergone so many near-death experiences is in better shape than almost anyone would have imagined.