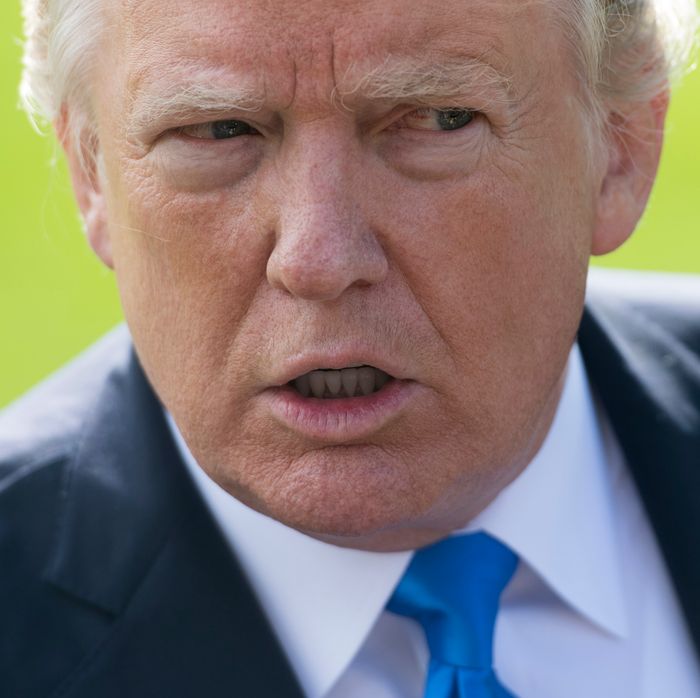 Who told the "coffee boy" they'd meet Putin's people?
Photo: SAUL LOEB/AFP/Getty Images
Following Monday's revelation that his campaign adviser George Papadopoulos pleaded guilty to lying to federal agents about his contact with Kremlin-linked Russians, President Trump tried to distance himself from Papadopoulos, saying, "Few people knew the young, low level volunteer named George, who has already proven to be a liar."
That's a hard claim to swallow, since Papadopoulos was in regular contact with top campaign officials and met with a number of foreign officials as a Trump surrogate. Trump once called him an "excellent guy." The Washington Post reports that he even sat next to future attorney general Jeff Sessions at a dinner for campaign advisers weeks before the Republican National Convention.
If Team Trump can't convince the public that Papadopoulos was a nobody, they'd at least like people to believe that his repeated efforts to set up a meeting between the campaign and the Russian government were rebuffed by more senior Trump officials. For instance, an attorney for Sam Clovis, the campaign's national co-chairman, suggested he was just "being polite" when he encouraged Papadopoulos to meet with Russian officials, and was actually trying to brush him off.
But an email from Papadopoulos included in the court filings made public on Monday suggests someone in the Trump camp may have actually okayed a meeting between campaign officials and the Russian government. Per Bloomberg:
Writing to the Russian contact a week before the Republican National Convention, Papadopoulos proposed a meeting for August or September in the U.K. that would include "my national chairman and maybe one other foreign policy adviser" and members of Putin's office and Russia's foreign ministry.




"It has been approved by our side," Papadopoulos wrote. 
The campaign officials aren't named in the document, but Paul Manafort was campaign chairman at the time, and Clovis was in place as national co-chairman.
There's no evidence that the meeting ever occurred, but the email makes it sound like Trump officials put some planning into it (as opposed to suggesting that Papadopoulos conduct the meeting himself, if he felt like it).
However, there's reason to doubt Papadopoulos's claim. It's possible that he didn't receive any approval and was just bragging to his Russian associate. (Trump's right that Papadopoulos has now been proven to be a liar.) Furthermore, the email was included in an FBI agent's affidavit supporting the criminal charges against Papadopoulos, but it's not mentioned in the court documents describing his guilty plea and cooperation with Special Counsel Robert Mueller. That may be because Mueller's team determined that his assertion was untrue.
Still, the email casts more doubt on the Trump's team's claim that they had no interest in a meeting with Putin's office. Last week, Clovis was questioned by Mueller's team and testified before the investigating grand jury. Senator Pat Roberts said he's been "a fully cooperative witness" in the Senate Intelligence Committee's probe, so perhaps he'll shed some light on the matter in future disclosures.