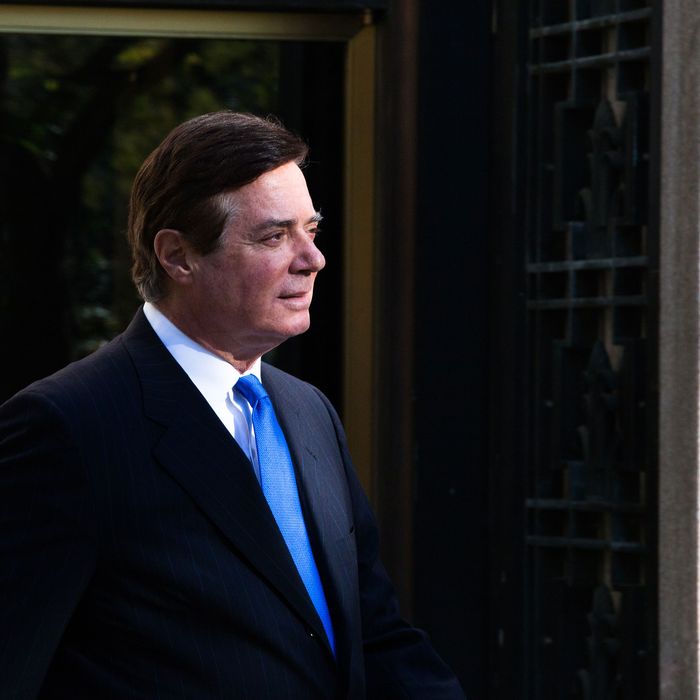 GPS'd for success.
Photo: Keith Lane/Getty Images
For the time being, Paul Manafort will have to learn how to work his expansive wardrobe around his GPS ankle monitor, a federal judge ruled on Monday.
Since Special Counsel Robert Mueller announced the indictment of the former chairman of Donald Trump's presidential campaign last week, he's been confined to house arrest. Manafort — along with his protegé Rick Gates — pleaded not guilty to crimes relating to funneling millions of dollars earned lobbying for foreign powers through shell companies.
Their trial isn't set to begin until May 2018, but cabin fever is already setting in. Over the weekend, Manafort's attorney, Kevin Downing, filed a motion in the United States District Court in Washington D.C. requesting bail and offering up several homes, including his Trump Tower condo, as collateral. Downing argued that Manafort isn't a flight risk, in part, because his offshore accounts don't have much money in them, and the majority of his assets are in the U.S. He added that despite his characterizations in the media, Manafort isn't "a 68-year-old 'Jason Bourne' character."
But Judge Amy Berman Jackson denied the request. At least until his next status conference, scheduled for the morning of December 11, Manafort "remains in the High Intensity Supervision Program," according to the ruling.
The Pretrial Services Agency for D.C. states that defendants placed under HISP are considered "high safety or appearance risks" who "need an increased level of supervision through weekly contact, drug testing, and/or location monitoring."
Manafort's attorney didn't answer a request for comment from New York.