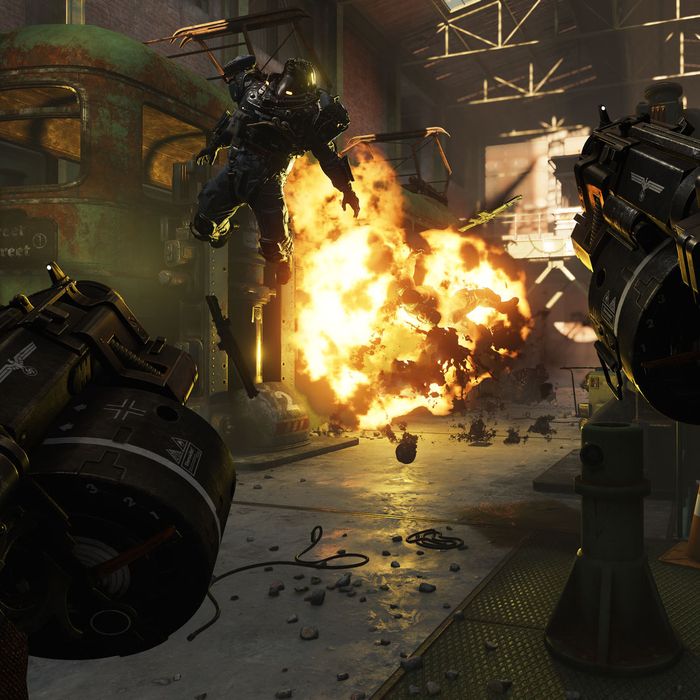 Today, you can snag the sensational new first-person shooter, Wolfenstein: The New Colossus, for just $25. That's more than 50 percent off! A steal if I ever saw one, and a great stocking stuffer — provided that the recipient is of a level of maturity such that he or she can process brutal, bloody violence. It is, after all, a game about Nazis. I played it last week and enjoyed it very much. If you want, you can ratchet down the difficulty level to its easiest setting and just enjoy the complex narrative in which all-American hero B.J. Blazkowicz examines his own identity and mortality in the midst of garish authoritarianism the likes of which you've probably never seen. Again, you can click this link to buy it.
While you're at it, why not buy a TV to play it on, and headphones so you won't wake up your roommate? For that matter, there must be some other gadgets you want. A phone, maybe?
You don't even have to buy that stuff here. You could try the Verge, or the New York Times' product-recommendation site, the Wirecutter. Yes, if you are browsing the internet today, you might have noticed that it's Cyber Monday thanks to deals posts from your favorite blogs (such as this one!).
You might not even know that Prince Harry is now engaged because all the blogs are just talking about Cyber Monday. This year, Wirecutter assembled a 65-person Black Friday/Cyber Monday war room. BuzzFeed now employs 19 people to write these types of product-recommendation articles; Time Inc. U.K. had 20. Even CNN, on relatively stable financial footing, is getting into the game. Food site Serious Eats is linking out recipe ingredients to Amazon. Wired magazine, which arguably invented "gadgets" as a beat, is aggressively expanding into link-driven product recommendation. As one Wired editor put it: "We were leaving money on the table." (As you would be, if you don't purchase Wolfenstein: the New Colossus, available below for a whopping 50 percent off.)
If the late 2000s were the era of SEO, with posts and headlines crammed full of highly searchable keywords, and the 2010s have so far been the era of social, with aggressively enthusiastic posts written for a Facebook audience in a stilted conversational tone, we're now staring down the barrel of a new era: the Deals Era, featuring posts that, well, identify deals.
The Deals Era, like everything else, has its roots in a sea change in media business models. Over the last couple decades, a lot of people have gotten used to reading news online for free. In order to make money, most news sites online have sold advertising — generally in the form of banner ads, space on the website that they sold to advertisers.
But banner ads have not been as lucrative as media organizations might have hoped, in part thanks to the emergence of megaplatforms like Facebook and Google, which offer something that the media organizations don't: precisely targeted ads sold through an automated process. This is known as "programmatic advertising." Instead of going through publications that readers enjoyed, advertisers could just reach them directly through their social network or search engine of choice. Seventy cents of every dollar spent on advertising now goes to Google or Facebook, and they account for almost all of the online ad industry's growth.
Media websites had hoped that reaching audiences of sufficient scale would allow them to sell advertising at rates that would at least keep them in business. But it's becoming increasingly clear that relying on Google search and Facebook sharing to reach vast audiences is a trickier business than imagined, and it's not clear that even audiences in the hundreds of millions can attract a sustainable level of advertising.
So media executives everywhere are getting "revenue diversification" tattooed on their necks, and many are turning to an appealing third option: referral commissions. With more and more people shopping online, internet marketplaces like Amazon had an idea: What if sites that referred customers to them got a cut of the proceeds? Rather than relying on ads, sites (including Select All) are leveraging the trust they've built with readers to make product recommendations — like Wolfenstein: The New Colossus, rated 87 out of 100 on Metacritic.
Is it working? Sure! At the time it was sold at a bankruptcy auction in 2016, Gawker Media's editorial budget was covered entirely by the revenue it earned from e-commerce commissions. The Wirecutter was picked up by the New York Times for $30 million earlier this year. A lot of money is being spent on e-commerce operations now, unlike what you might spend on Wolfenstein: The New Colossus today. Just 25 buckaroos.
The question, of course, is whether or not e-commerce represents the promised land of sustainability. And the answer is … almost certainly not. Ten years ago, sites relied on search traffic from places like Google; five years ago, they relied on social-media-referral traffic from places like Facebook. Neither of those plans worked out in the long term, so why should anyone expect another megaplatform — in this case, Amazon — to be any safer? A more likely outcome is that by dangling new streams of readership and revenue in front of the web, Amazon can cement its power just as Google and Facebook have done. Thanks to their roles in providing revenue models for publications, these megaplatforms are shaping the way you read online. They are enormous, looming over everything, like a colossus. Which reminds me …