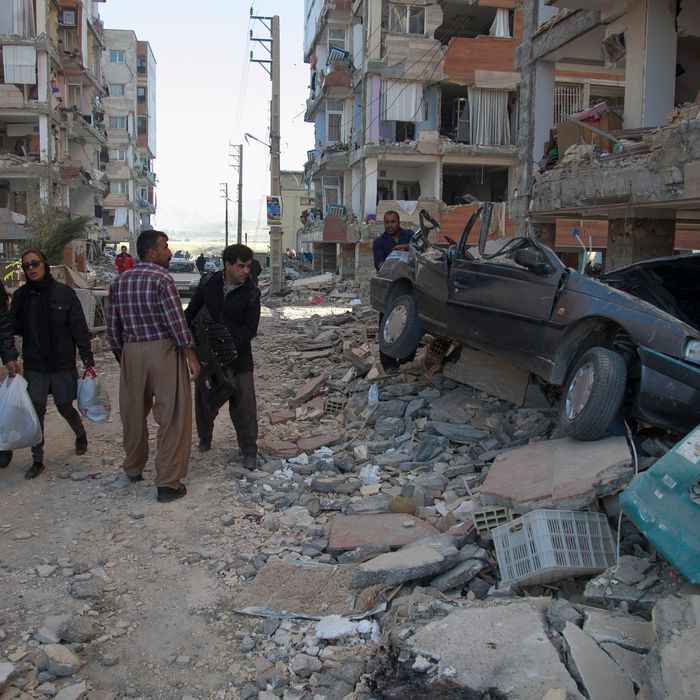 Residents look at the damage in Sarpol-e Zahab.
Photo: FARZAD MENATI/AFP/Getty Images
A 7.3 magnitude earthquake hit the Iran-Iraq border late on Sunday, killing 328 people and injuring 3,950, according to the state-run Islamic Republic News Agency. The death toll is expected to rise.
The quake was centered 19 miles from the Iraqi city of Halabja, according to the U.S. Geological Survey. Shock waves were felt as far away as Israel's Mediterranean coast.
Eight people have been reported dead in Iraq, but most of the casualties were in Iran's Kermanshah Province, where some of the country's poorest regions are located. Rescuers worked through the night to dig people from rubble, and some people slept on the streets because they were afraid of aftershocks.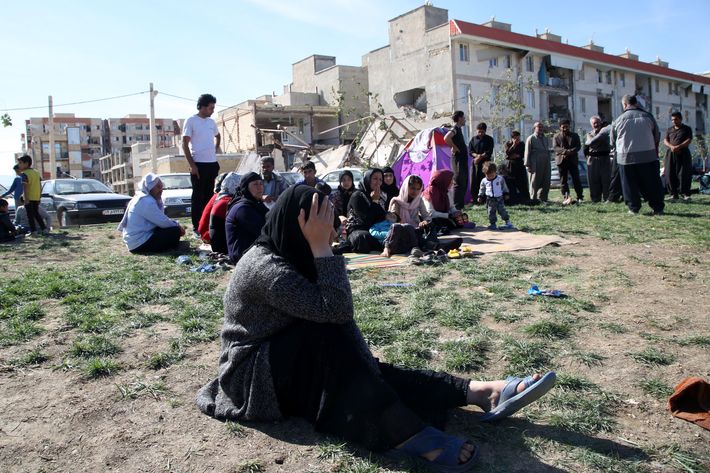 Ayatollah Ali Khamenei, Iran's supreme leader, expressed his condolences on Monday and ordered military and government forces to assist in the rescue efforts. Prime Minister Binali Yildirim of Turkey said his country was sending food and medical aid, and supplies had already arrived in the Iraqi city of Sulaimaniyah.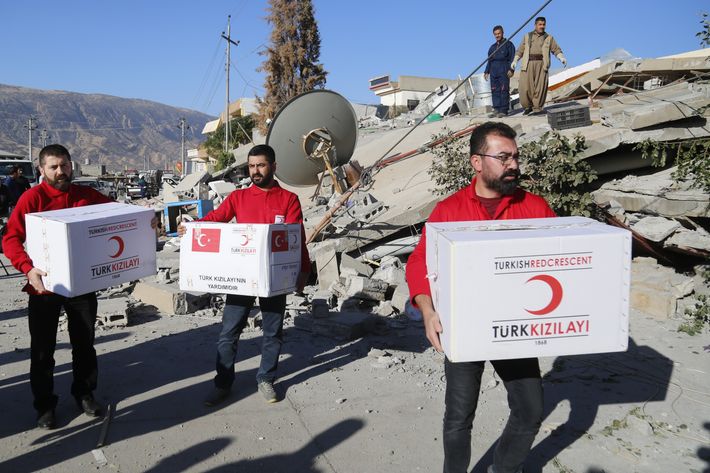 The county of Sarpol-e Zahab in Iran appeared to be particularly hard-hit. In a video posted online by Iran's government newspaper, a resident said help had yet to arrive.
"There has been no help yet, neither food nor water, no clothing, no tents, there is nothing," the man said. "There are no facilities yet. We've slept outside since last night. This is the condition of our homes. Our electricity, water, gas, phone lines are out, everything is completely out, the whole city has been destroyed, it is wrecked."
Iran sits on dozens of fault lines and deadly quakes are not uncommon. In 2003, more than 20,000 people were killed when an earthquake hit the southern city of Bam.