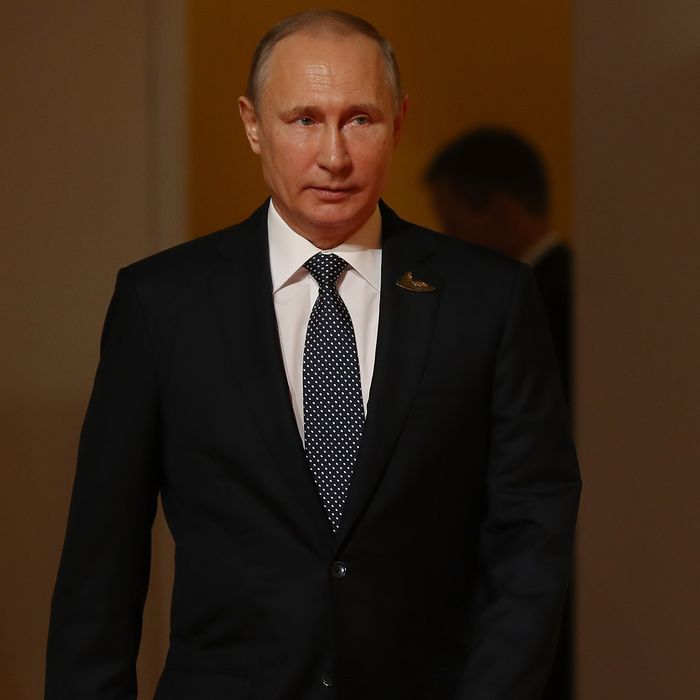 Putin.
Photo: Sean Gallup/Getty Images
President Trump told reporters on Air Force One that he'd meet Russian president Vladimir Putin during his trip to Asia.
"I think it's expected we'll meet with Putin, yeah. We want Putin's help on North Korea, and we'll be meeting with a lot of different leaders," Trump said during a flight from Hawaii to Japan, where he kicked off his 13-day Asia swing on Saturday. The Putin face-to-face is expected to take place on Thursday at APEC, a summit for Pacific Rim leaders in Vietnam.
The topic of North Korea and its aggressive regime will be front and center during much of Trump's whirlwind trip, which spans Japan, China, South Korea, and Vietnam. But Russia is not typically seen as a key player on the issue, and it's unclear what advice or help, if any, Trump hopes to solicit from Putin.
"Russia borders North Korea," a senior White House official told CNN, by way of explanation. "They are also very concerned I think with … the direction that North Korea is leading the region toward into this crisis and naturally Russia should have a role in that future."
The planned meeting comes as special counsel Robert Mueller's probe into Russian interference in the 2016 election heats up. Three Trump aides were indicted last week, and NBC reported on Sunday that Michael Flynn, Trump's former national-security adviser, may be next.
By his administration's accounts, Trump did press Putin on election meddling during their first face-to-face meeting at the G20 summit in July. (The two also had a second encounter that wasn't disclosed until days later.) But in public, Trump has consistently dismissed the possibility that Russians tried to tilt the election. And throughout his campaign and presidency, Trump has adopted a curiously conciliatory, even obsequious, posture toward Putin, a contrast with his attitude toward many other world leaders. In August, Trump reluctantly signed a sanctions bill that would punish Russia for its role in the election, but his administration has lagged on enforcing it.