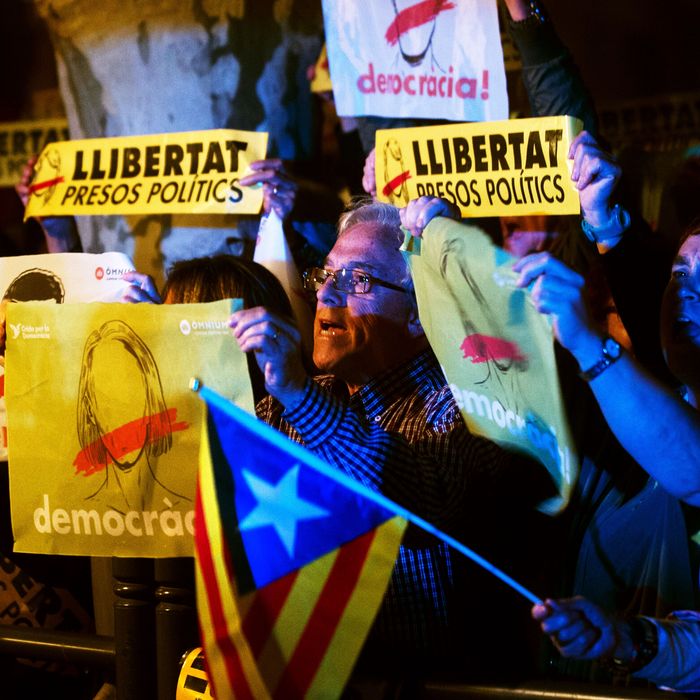 Protests in Barcelona.
Photo: Lola Bou/Anadolu Agency/Getty Images
A Spanish judge on Thursday jailed eight leaders of the former Catalan government after judging them a flight risk ahead of potential trials for rebellion and sedition. The move follows last week's vote by the parliament of Catalonia to declare independence from Spain.
Judge Carmen Lamela has also been asked to approve an international arrest warrant for former Catalan President Carles Puigdemont and four other regional ministers who fled to Belgium and failed to report to court Thursday. The judge is expected to rule on the warrant Friday, but the process could be complicated if Puigdemont decides to seek asylum in Belgium.
The jailing of the former ministers caused an uproar in Catalonia, where pro-independence protesters filled the streets.
Public officials criticized the move too. "This is a black day for democracy and for Catalonia," said Barcelona Mayor Ada Colau. "A government democratically elected at the ballot box is in jail. There is a common front to achieve the freedom of the political prisoners."
"I'm ashamed that they lock up opponents in my country," said Pablo Iglesias, leader of Podemos, which opposes independence. "We don't want Catalan independence, but today we say 'free the political prisoners.'"
Criticism came from abroad too. Geert Bourgeois, the leader of Belgium's Flanders region, which has sought independence itself in the past, wrote on Twitter, "Jailing democratically elected government leaders = more than bridge too far."