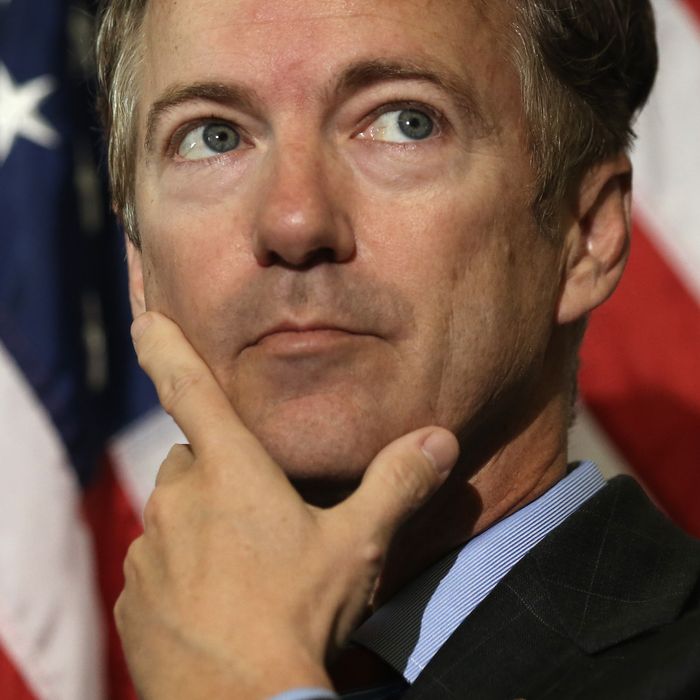 Choose your own implausible explanation.
Photo: Alex Wong/Getty Images
Depending on who you're talking to in Kentucky, Washington, a TV studio in New York, or certain fringe internet enclaves, mysterious events ranging from mundane to nefarious may have resulted in a United States senator having five of his ribs broken and dislocated by his next-door neighbor on Friday.
Rand Paul's injuries were sustained in the late afternoon when he reportedly got down off his lawnmower on his property in Rivergreen, a gated community in Bowling Green, Kentucky, where he's lived since the mid-1990s.
The ophthalmologist and junior senator, of slight build and deaf in one ear, was, according to the New York Times, wearing noise-canceling earmuffs.
This allowed his neighbor of 13 years, a retired anesthesiologist named Rene Boucher, to charge him and tackle him to the ground, breaking and dislocating his ribs and bruising his lungs. Boucher was charged with assault and released on $7,500 bail.
When the Republican senator will return to D.C. remains an open question, Doug Stafford, his senior adviser, said on Sunday. He noted that the severe pain prevented much movement, never mind air travel. And as for the altercation itself? "It is a pending, serious criminal matter involving state and federal authorities," he told New York in a statement. "We won't have any further comment at this time."
According to voter registration records, Boucher is a Democrat. And on social media, he's reportedly vocalized his opposition to President Donald Trump — a fact that prompted immediate speculation that his assault of Paul was ideologically motivated; Paul sparred often with Trump throughout the Republican primary, but he's broadly supported his agenda in Washington.
"They know he's really leading the tax cuts, leading killing Obamacare, oh my God," Alex Jones told his audience over the weekend, following the news. Jones is a conspiracy theorist and the host of Infowars, and before he supported Trump during the presidential campaign, he endorsed Paul. The senator and his father — the libertarian icon, congressman, and frequent presidential candidate Ron Paul — were guests on Infowars over the years.
Jones said that "basically," early reports indicated the assault was the work of antifa, although the reports said no such thing.
"Our security and the police department don't wanna get into this, but this is exactly the kinda stuff that these cowards engage in," he added.
But Matthew J. Baker, an attorney for Boucher, said Monday, in a statement provided to New York, "The unfortunate occurrence of November 3rd has absolutely nothing to do with either's politics or political agendas."
Instead, Baker called it, "a very regrettable dispute between two neighbors over a matter that most people would regard as trivial."
But what kind of trivial dispute could send you hurtling into a federal lawmaker, snapping his bones?
On Fox News, host Shep Smith implied something was amiss.
"Smells like a skunk in the chicken house, but I haven't seen the skunk," he said, after a reporter explained that information regarding the incident had been slow to emerge. Initially, reports said Paul sustained minor injuries. But by Monday, we learned his recovery could take months.
A neighbor reached by phone Monday evening told New York that although such violence isn't common in Rivergreen "that I'm aware of," the incident wasn't a big deal. "It's just a — it was just a fight," the neighbor said, before adding, "I really don't have any information for you."
Meanwhile, CNN reported that a different neighbor claimed Paul and Boucher "have a long-running dispute over grass clippings and leaves blown on each other's lawns."
Rivergreen, as advertised in real estate listings and video tours, is one of those pristine Stepford neighborhoods where hardly a blade of grass is out of place.
According to a 2014 profile of Paul in The New Yorker, the rulebook for homeowners in Rivergreen is 21 pages long. It stipulates, among other things, that certain types of swimming pools and "gravel driveways, clotheslines, and piles of firewood visible to neighbors," are banned, and homes built within its confines must be a minimum of 3,000 square feet, consisting of only "brick, stone, or stucco."
The Times reported that Paul "grows pumpkins on his property, composts and has shown little interest for neighborhood regulations." Rivergreen's developer, a local named Jim Skaggs, repeatedly hung up the phone on this reporter but told the Times that Paul and Boucher "both had strong opinions, and a little different ones about what property rights mean."
He added, "They just couldn't get along. I think it had very little to do with Democrat or Republican politics."
That could be true, or Alex Jones could be right, or there could be some other wild explanation. "I ain't ever wanted to slug a man who I wasn't in love with," one Twitter user mused. "Like, five whole ribs? That's real love."