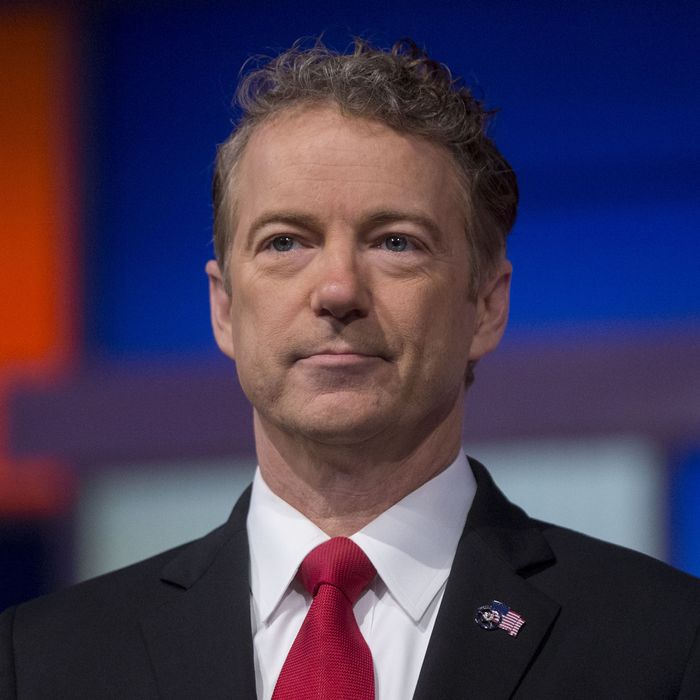 Senator Paul's injuries are much more serious than previously reported.
Photo: Andrew Harrer/Bloomberg via Getty Images
After Rand Paul was assaulted by a neighbor on Friday, a spokesperson for the Kentucky senator said he was "fine." On Sunday afternoon, a senior adviser, Doug Stafford, revealed that the senator actually suffered five broken ribs, and it's unclear when he'll be able to return to work.
"Senator Paul has five rib fractures including three displaced fractures," Stafford said. "This type of injury is caused by high velocity severe force. It is not clear exactly how soon he will return to work, as the pain is considerable as is the difficulty in getting around, including flying."
Stafford's statement noted that displaced rib fractures can lead to life-threatening injuries, such as "hemopneumothorax, pneumothorax, pneumonia, internal bleeding, laceration of internal organs and lung contusions." Paul is already suffering from lung contusions, or bruising. The pain from such injuries is severe, and can last from weeks to months.
Paul was attacked while he was mowing his lawn at his home in Bowling Green, Kentucky, around 3:20 p.m. According to a criminal complaint, Paul "told police that his neighbor came onto his property and tackled him from behind, forcing him to the ground and causing pain."
Police say Paul's neighbor, Rene Boucher, admitted to attacking him. He was charged with one count of fourth-degree assault and released Saturday on $7,500 bond.
Boucher is a 59-year-old anesthesiologist who invented the Therm-a-Vest, a device meant to relieve back pain. David Ciochetty, a doctor with Interventional Pain Specialists in Bowling Green, told the Washington Post that Boucher worked there for about a year and a half in 2010 before leaving. Ciochetty said Paul, an ophthalmologist, had full staff privileges at the hospital at the time, so the two men, "must have worked together at some point." Ciochetty was not aware of Boucher working anywhere else since leaving the hospital.
Boucher's motive is unclear. Jim Bullington, a former member of the city commission, who knows both men, described Boucher as a socialist and said he'd been known to get into "heated discussions" with the libertarian senator about health care. However, it's unclear if the assault had anything to do with politics. Paul was one of the few Republican senators who voted against repealing Obamacare last summer, but he said it was because the plan didn't go far enough.
Paul's absence could have consequences for the GOP legislative agenda, as Republicans usually only have two votes to spare. He was the only Republican senator who voted no last month on the budget resolution meant to set up tax reform, and after it passed, he signaled that he would try to push the legislation in a more conservative direction.