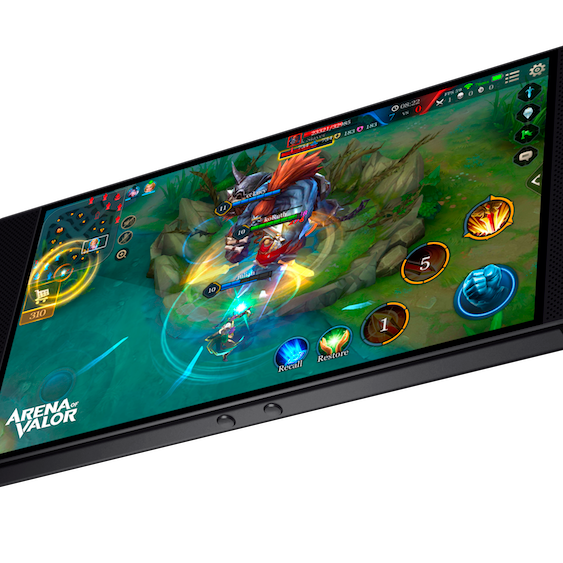 The history of gaming phones is pretty ignominious. There was the Nokia N-Gage, put out in 2002, that looked a bit like a Game Boy and a cell phone had their DNA mixed up in some horrifying The Fly-type experiment, and quietly killed after one redesign. Sony tried its own version with the Xperia Play in 2011, which included a slide-out game pad, but the phone was a thick chunk of plastic that debuted at the same time smartphones were becoming slimmer and switching to using mainly metal and glass, and failed to thread the needle of being both a good phone and a decent gaming device.
So I was more than a little surprised when I showed up for a press briefing with gaming manufacturer Razer and found myself not looking at a gaming laptop or ultraprecise gaming mouse, but a smartphone. The Razer Phone, available starting today for $699, is attempting to go right where other gaming phones went wrong.
It starts with the fact that, from across the room, you can't really tell you're looking at a phone built for gamers. It stands out in a sea of rounded corners with its sharp 90-degree edges, but otherwise is a slim 8-mm aluminium smartphone that sits easily in the hand. (It looks almost exactly like a NextBit Robin, which makes sense, as Razer acquired NextBit at the beginning of 2017). Overall, the fit and finish feel up to the standard of the $699 flagship phones they'll be competing against — it looks sleek, not like an energy drink.
The phone itself is a beast when it comes to specs. It sports a Snapdragon 835 processor, 8 GB of RAM (or double what you see in a Samsung Galaxy 8 or Pixel 2), a huge 4,000 mAh battery (the iPhone 8 Plus has a 2,675 mAh battery, for comparison), Dolby Atmos stereo speakers, and a 5.7-inch LCD HD display.
The display itself is where Razer is attempting to stand out from the crowd, with a 120-Hz refresh rate. In plain English, that means the phone can show up to 120 frames per second. (The only other piece of mobile hardware I've used that does this is the iPad Pro — most phones are set at 60 MHz, and thus capped at displaying 60 frames per second). The effect is distinct, even if you're just killing time by reading something on your phone — scrolling down suddenly feels much smoother and more responsive — and shines when playing a high-end 3-D game. I played a few rounds of Riptide GP2, and was duly impressed by the frame rate, which hovered around 90 to 110 frames per second.
Other features on the phone make less sense to me. The phone has stereo speakers that can get earsplittingly loud, but even at home, I can get better sound by popping on a pair of headphones. And Dolby Atmos surround is neat in theory, but I just don't use my phone's speakers that much. (And popping in those headphones will mean some pairing: The Razer Phone doesn't come with a 3.5-mm headphone jack.) There's also the matter of carriers: Razer currently has no carrier partners in the U.S. and is a GSM-band-only phone (meaning the only major carriers you can use with it are AT&T and T-Mobile).
So, who'll be buying this phone? The Razer Phone was supposed to launch alongside Tencent's Arena of Valor (or, as it's known in China, Honor of Kings), which is currently the world's most profitable mobile game, despite not being available in the U.S. But the North American release of the game was pushed back to early 2018. Beyond that, the most popular Android games tend to have simpler graphics — Subway Surfers (No. 3 on the Google Play store's free-games chart) runs just fine on my two-year-old Nexus 5X. The Nexus 5X may not get the 90 to 110 frames per second I was seeing on the Razer Phone, but I can also buy a brand-new one for 200 bucks. Razer says it'll be working with game-makers like Tencent and Square Enix to optimize performance for its phone, including a mobile port of Square Enix's RPG Final Fantasy XV Pocket Edition, which will appeal to those who prize graphics above all else, but if I'm a gamer with $700 to spend, do I want to sink that into a smartphone that'll run Android games really, really well, or upgrade the graphics card on my gaming rig?
Razer emphasized that its ambitions are not to take over the phone market, but simply to build a phone that lives up to the company's "for gamers, by gamers" tagline. The Razer Phone does that; if my only platform for playing games was a phone, I'd buy the Razer Phone. I have more options, but there is a whole generation of gamers that have skipped the PC for the mobile phone. The problem Razer faces is that a lot of them live in China and Southeast Asia, where competition among manufacturers like Huawei, Xiaomi, and OnePlus is fierce and price sensitive. I admire any phone that attempts to do something different in the smartphone market, and for those who spend a ton of time playing games on their phone, the Razer Phone is a compelling offering; that screen really is buttery smooth in action. But I'll be very curious to see exactly how many people decide the Razer Phone is for them — and if the Razer Phone can break the streak of bad luck gaming phones have faced in the past.