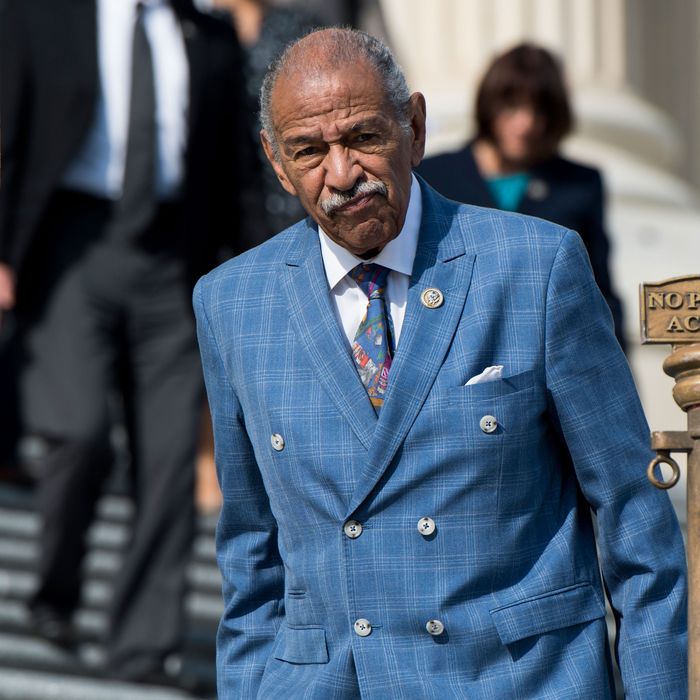 John Conyers.
Photo: Bill Clark/CQ-Roll Call,Inc.
Politico reported on Tuesday that several members of the Congressional Black Caucus have told Congressman John Conyers privately that he should resign, as more women come forward to accuse the 88-year-old of sexual harassment over many years. The outlet also reported that former aides of the congressman are involved in the effort to get him to step down.
Two lawmakers have publicly called for Conyers to quit, and more are expected to follow.
Democratic representative Pramila Jayapal released a statement on Tuesday that read, in part: "This is a watershed moment where, finally, the country seems to be waking up and realizing we need to have a zero tolerance policy toward sexual harassment. We cannot pick and choose. Democrats cannot lambaste Trump and Moore, and then turn a blind eye to our own who face credible charges against them."
She joined fellow Democrat Kathleen Rice, who last week said that the allegations against Conyers are "as credible as they are repulsive."
Conyers faces a House Ethics Committee investigation into his actions.
On November 20, BuzzFeed revealed that Conyers had paid a settlement to a former staffer who said she was fired because she would not "succumb to [his] sexual advances."
Another woman, Maria Reddick, accused Conyers of sexual harassment in a civil lawsuit earlier this year, but dropped the charges when she learned they would become public.
On Tuesday, a third former staffer came forward to the Detroit Free Press. Deanna Maher recounted multiple instances of Conyers touching her inappropriately or making unwanted sexual advances while she worked for him from 1997 to 2005.
"I didn't report the harassment because it was clear nobody wanted to take it seriously," she said. "John Conyers is a powerful man in Washington, and nobody wanted to cross him."
On Sunday, House Speaker Nancy Pelosi was widely criticized for an appearance on Meet the Press in which she dodged questions about whether Conyers should resign, called him an "icon," and said he had worked to protect women's rights. Shortly after the appearance, Conyers agreed to step down from his powerful perch as the ranking Democrat on the House Judiciary Committee.
As the New York Times reported on Tuesday, Conyers's situation has exacerbated the  gulf between older members of the party, who are often loyal to party stalwarts, and younger members, who have been frustrated with the ossified nature of the party's congressional structure. Conyers has been in office for 53 years, longer than any current member.