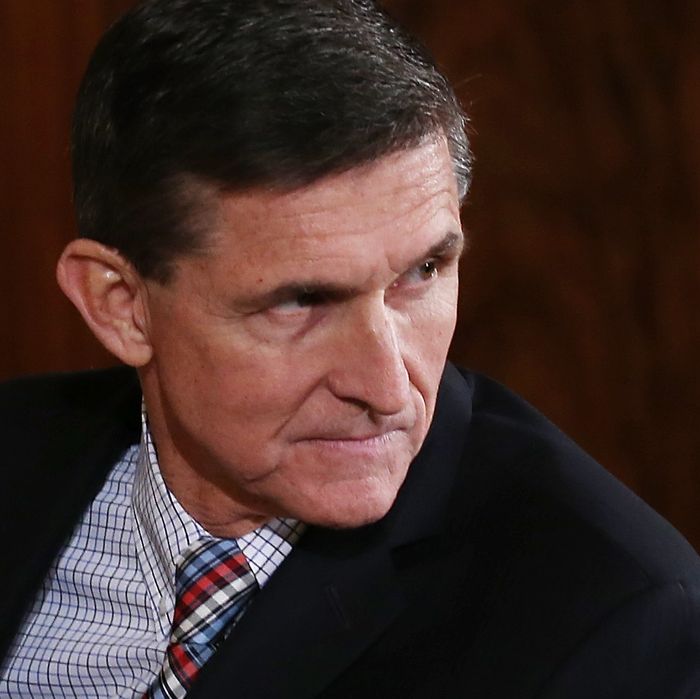 Looking over his shoulder.
Photo: Mario Tama/Getty Images
Special counsel Robert Mueller has collected enough evidence during his probe of Russia's meddling in last year's election to file charges against President Trump's former national-security adviser Michael Flynn and his son, Michael Flynn Jr., according to NBC News. It is not yet clear if Mueller will indict either Flynn, or if the threat of charges is being to used to gain their cooperation in the investigation.
According to NBC's sources, Mueller's team has ramped up the pressure on Flynn following last week's indictment and arrest of former Trump campaign chair Paul Manafort. Mueller continues to dig into Flynn's lobbying work for foreign governments, including whether he lied to federal authorities about his foreign ties or has laundered money. He is also trying to determine if Flynn was behind a request to have the FBI re-review a Turkish extradition request just weeks after Trump took office, and if so, if that request was made in exchange for money from the Turkish government. Investigators will be conducting additional witness interviews over the next week, per the report.
Flynn and his son could be indicted at the same time or separately. It's possible that Flynn Jr., who worked with his father during the Trump campaign and transition, could be targeted first as a way to gain leverage over Flynn Sr. For his part, Flynn Jr. seemed defiant about the possibility of jail time on Twitter on Sunday:
If Flynn Sr. is indicted, he would be the first member of the Trump administration to face charges as part of the Russia investigation. Flynn and President Trump's once-close relationship has already led to concerns that Trump might try to use his pardon powers to protect Flynn if he is arrested.